Are you looking for local farms near Nashville that raise grass-fed beef, and finish cattle on nothing but the grass nature intended?
As farmers raising and selling grass-fed, grass-finished beef in the Nashville/Murfeesboro/Chattanooga area, we are excited to see the grass-fed market growing. Despite the rapid growth, grass-fed beef only represents 1% of beef sold in America today.
One huge hurdle is defining the term grass-fed and spreading the word about the false-marketing surrounding it. Almost every cow in the world begins on pasture and is raised for a significant portion of its life on grass. It is at the end of its life where grass-fed beef differs from the majority of the beef sold. Just before slaughter, most cows are typically shipped to feed lots where they're fed corn and other grains for a few months to bulk up while being kept in close quarters and given daily doses of antibiotics to prevent infection. Despite being fed these grains for several months, the USDA allows these animals to be called Grass-fed. We firmly believe that cows should be raised on a diet that is natural to their biology for their entire life. They are designed to eat pasture with a complex multi stomach digestive system.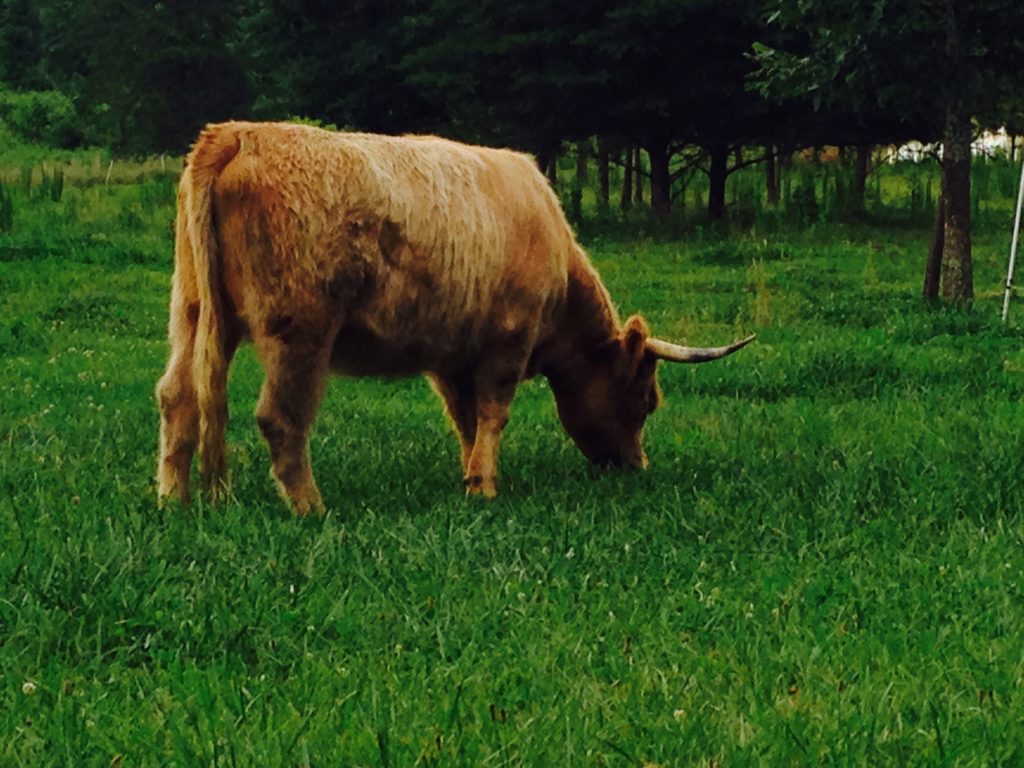 Another hurdle that can be confusing for consumers is that cattle don't need to be raised in the United States to be labeled a product of the United States. Most of the Grass-fed, Grass-finished beef sold in America is born, raised and slaughtered in foreign countries. They are then shipped to the United States for further processing. This allows the companies importing the beef to label it as a "product of the USA," when in fact it was born and raised in a pasture far away.
If you live near Nashville, the simplest way to know that your animals are raised on grass their entire lives and are born and raised in the USA is to know your farmer. There are several farms practicing regenerative agriculture, improving the health of the land, the health of the animals, and keeping our water clean right in your own back yard. We strongly encourage you to support these local farms because without your support, small local farms won't be able to compete against the corporate agricultural system that dominates the food markets.
100% Grass-Fed Cattle Farms Near Nashville
Each of the farms below is within 100 miles of Nashville and raises their beef cattle on grass. Beef you buy from these farms should be grass fed and grass finished, but it pays to visit the farm and talk to your local farmer. Once you find a farm that you like, we recommend becoming CSA members as a sign of support.
Cove Creek Farm
Product: Beef, Pork, Chicken, Eggs, Produce
Website: https://www.covecreekfarm.com
Address: 450 Popular Springs RD Tracy City TN
Solace Farm Homestead
Product: Beef, Lamb, Duck Eggs, Soaps, Balms, Salves, Deodorants, and Fibers
Website: www.solacefarmhomestead.com
Address: 281 Solace Farm Rd Coalmont TN 37313
Sequatchie Cove Farm
Product: Beef, Pork, Eggs, Produce, Cheese
Website: www.sequatchiecovefarm.com
Address: 320 Dixon Cove Road, Sequatchie TN 37374
Dayspring Farm
Product: Beef, Lamb, Pork, Poultry, Produce, and Honey
Website: http://www.dayspringfarmtn.com
Address: 285 Brickell Ave Altamont TN 37301
Bowers Farm
Product: Beef, Pork and Chickens
Website: www.bowersfarmtn.com
Address: 80 Waterfork Road Ethridge, TN 38456
Taylor Family Farm
Product: Chicken, Turkeys, Hogs, Eggs, Beef, and Lam
Website: www.taylorfamilyfarmtn.com
Address: 301 Dave Risner RD. Ethridge TN 38456
Loan Oak Farm
Product: Beef
Website: 3188 Spring Place Road
Address: Lewisburg TN 37091
Dazi Acres
Product: Chicken, Turkey, Pork, Beef, and produce
Website: https://www.facebook.com/DaziAcres
Address: 822 Summer City Road Pikeville TN 37367
Yellow Bird Farms
Product: Lamb and Beef
Website: http://www.yellowbirdfarms.com
Address: 1085 McCollum Bend Road,McMinnville TN 37110
Rocky Glade Farm
Product: Beef and Lamb
Website: http://www.rockygladefarm.com
Address: 2397 Rocky Glade Road Eagleville TN 37070
Paradigm Farms
Product: Beef
Website: https://www.facebook.com/ParadigmFarm
Address: PO box 186 College Grove Tn 37046
Rolling Hills Farm
Product: Beef and Eggs
Website: http://www.rollinghillsfarm.com
Address: 2520 Bruce McCaleb Duck River TN 38454
Wild Cat Ranch
Product: Beef
Website:
Address: 1830 Deer Creek Road McEwen TN 37101
Jolly Barnyard
Product: Beef, Lamb, Chicken, Turkey, Duck, and Pork
Website: www.jollybarnyard.com
Address: 8053 River Road Pike Nashville TN 37209
Angus Grass-fed Beef of Tennessee
Product: Beef
Website: https://www.facebook.com/AngusGrassfedBeefofTn
Address: – 2140 Dearborn Drive Nashville TN 37214
Field of Dreams Farm
Product: Chicken and Duck Eggs, Chicken, Duck, Turkey, Pork, and Beef
Website: www.fieldofdreamsfarmtn.com
Address: 5350 South Commerce Road Watertown TN 37184
Peaceful Pastures All Natural Meats
Product: Beef, Chickens, Turkeys, Pork and Lamb
Website: www.peacefulpastures.com
Address: 69 Cowan Valley Lane Hickman TN 38567
Whitaker Farms
Product: Beef, Pork, Chicken, Turkey and Eggs
Website: www.whitakerfarmstn.com
Address: 120 Murphy Lane Gallatin Tennessee 37066
Tennessee Grass Fed
Product: Beef, Chickens, Pork
Website: http://tennesseegrassfed.com
Address: 335 Williams Road Clarksville TN 37043
Gourmet Pasture Beef
Product: Beef
Website: http://www.gourmetpasturebeef.com
Address: 5458 Gunn Road Springfield TN
Request A Listing
If you are a farm near Nashville using sustainable, natural, grass-fed and grass-finished practices in raising your cattle, we are happy to highlight your work on this page for free. Just get in touch using our contact form with your farm name, website and address and if we like what you do, we'll add you as soon as possible.