Open Saturday and Sunday from 10am till 6 pm
Beginning June 17th 2023
Admission: $12 per person
The Play Barn
The indoor Play Barn at Cove Creek farm is a giant indoor play zone for kids. The best way to describe it is as a HUGE McDonald's PlayPlace with slides, mazes, obstacles, ball pits and more. Your kids will have fun for hours!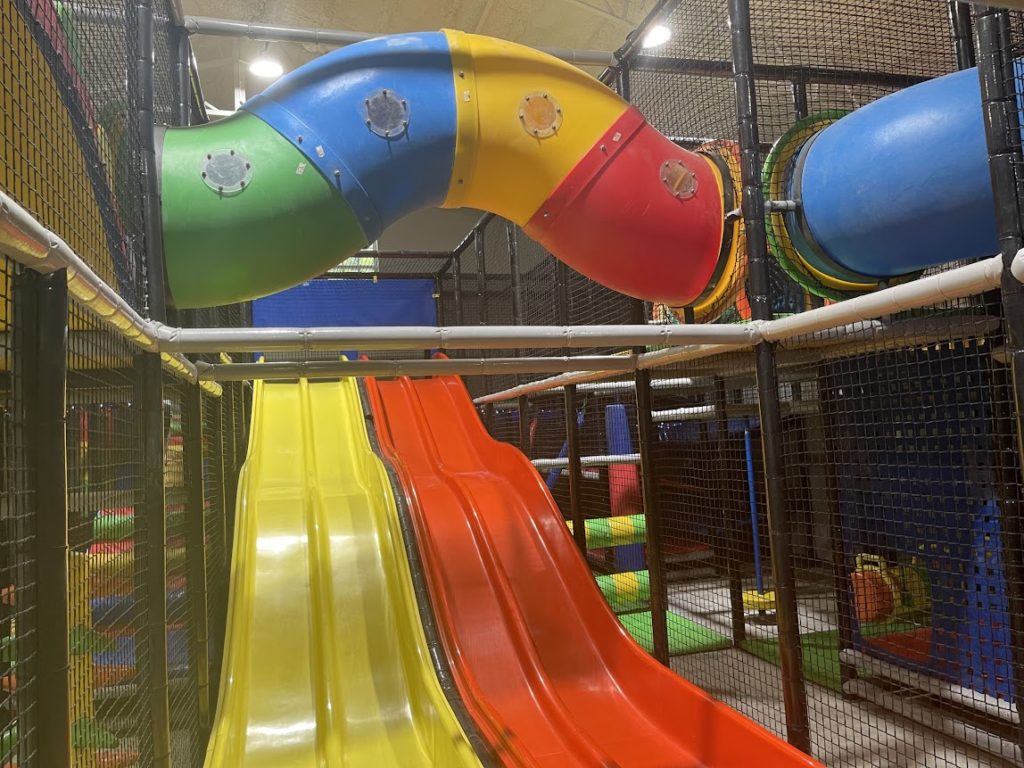 There is also an Imagination Station, a children's museum-style exhibit where little kids are encouraged to interact and explore! Pick your own vegetables in the make-believe veggie garden. Gather fruit from the apple tree. Sell the produce at the farmer's market. Cook a farm-to-table meal in the kids' kitchen. Take care of the farm animals in the Vet's Office. Ride a horse or bull in the stable.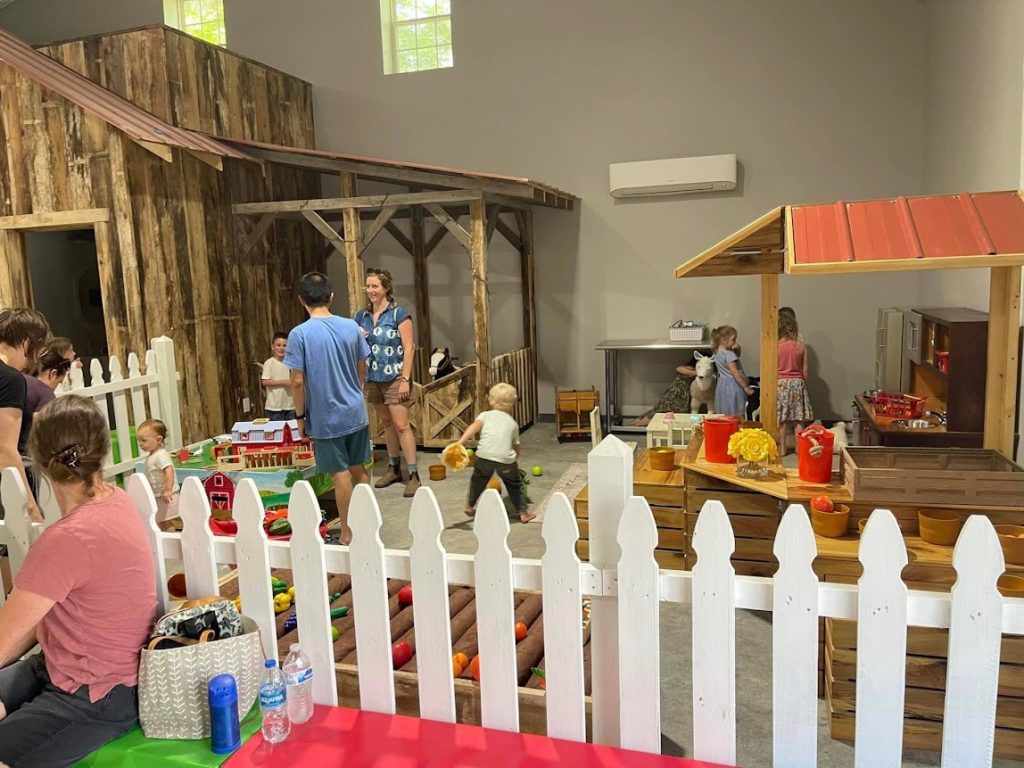 The Outdoor Fun Zone
Pirate Ship – Climb aboard the Adventure Galley at Cove Creek Farm. A multi-level pirate ship that reaches 25 feet tall and connects to a castle complete with turrets. Peek through the portholes on the first deck, climb the rock wall or cargo nets to the 10 ft top deck, tube slide, balance on the swaying bridges to the port castle. A crows nest with a fireman's pole stands at 20ft high for the seriously brave. Monkey bars to monkey swings, there are plenty of features for your children or your inner child to explore.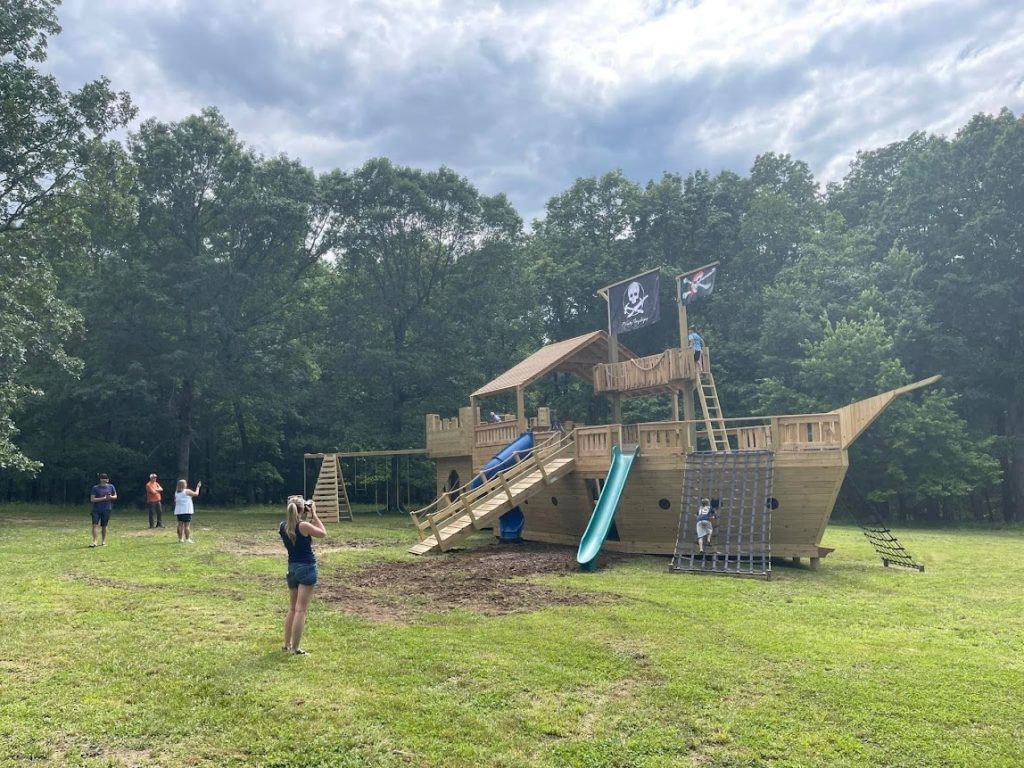 Hobbit Hill – Enter the whimsical world of Tolkien set in Cove Creek Farm's natural playscape with rocks and logs to climb and tunnels to explore. Pretend you are in the shire with Bilbo and Frodo Baggins.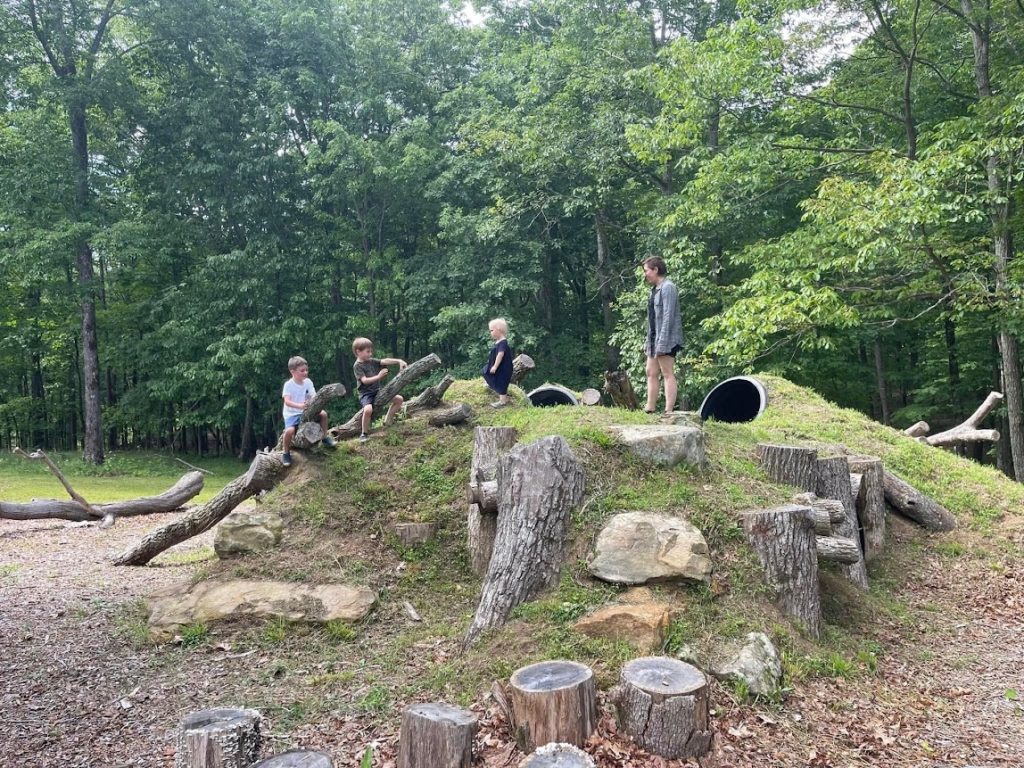 Natural playscape – Reconnect with nature as you climb on logs, explore creeks and bridges, and build forts while scampering up and down hills. Sit in a human-sized birds' nest or a branched tepee. We carefully used the natural resources on our land to create an area where children can take controlled risk and experience their surroundings. The deepest learning and development of their understanding of the world comes from this type of exploring in nature.

Jump pillow– Not allowed to jump on your furniture at home? Come enjoy this 30X40 inflatable jumping pillow that slopes gently to the ground.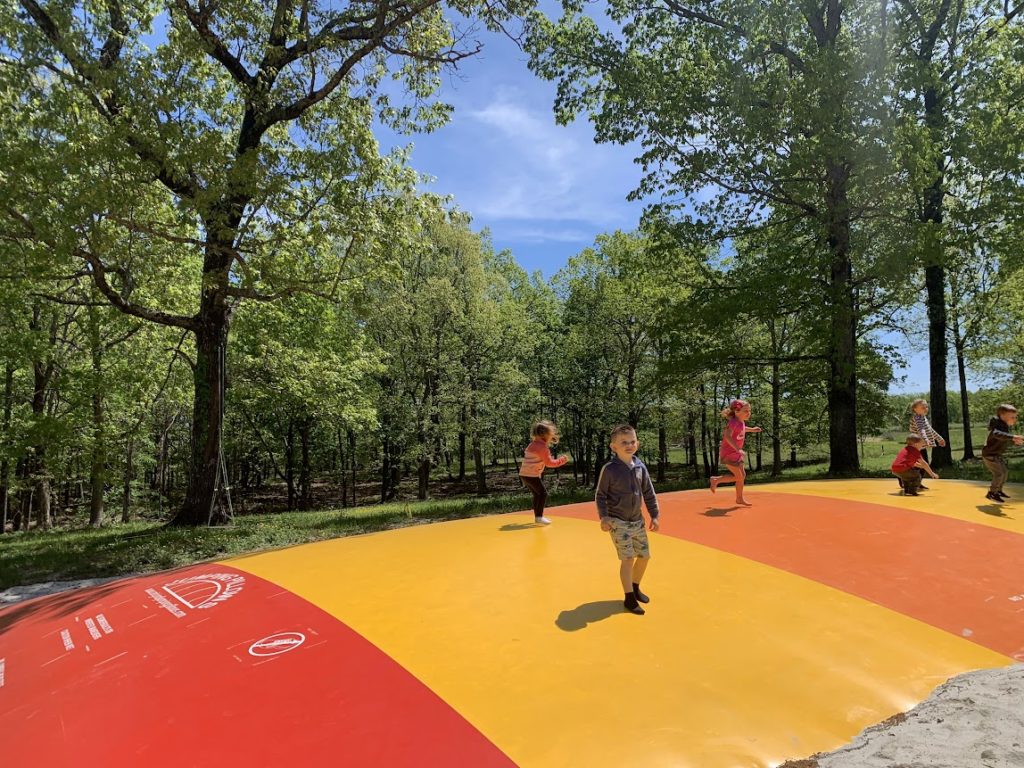 Tire playground – jump around and climb over different tire structures

Partner Games – dispersed throughout the pasture are a variety of classic backyard games to play with a partner or team, such as cornhole and can jam. You'll even find giant outdoor versions of some classic board games – tree stump checkers, homemade kerplunk, ginormous jenga, and large Connect 4.