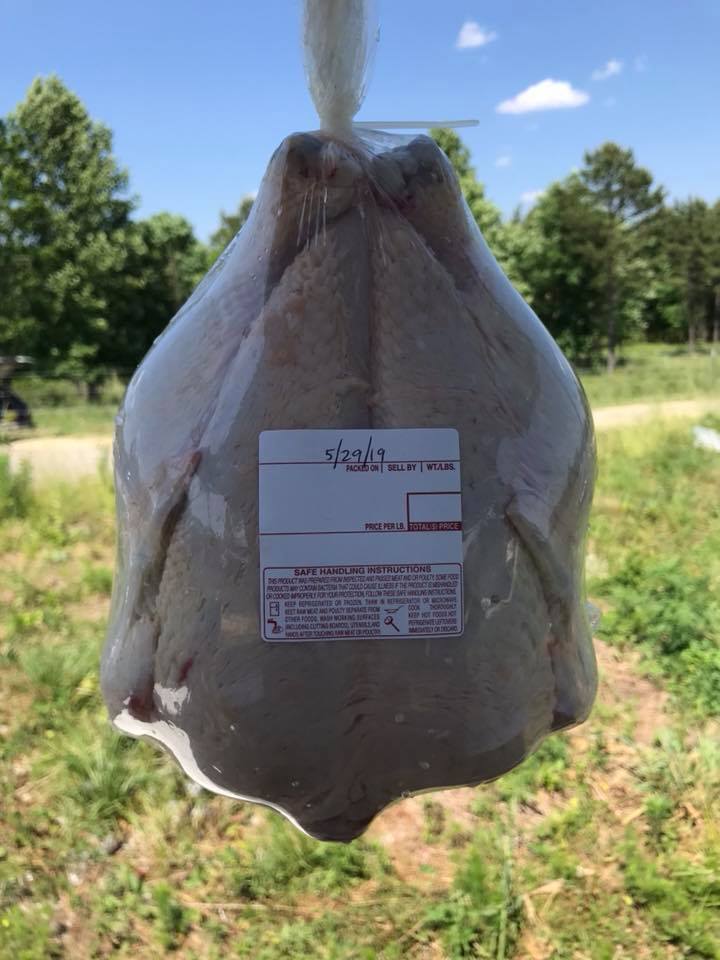 At Cove Creek Farm we raise our chickens on pasture. Chickens are naturally omnivores and are happiest when out in the sunshine with room to roam. They get to eat grass, legumes, and insects. Their diet is supplemented with organic feed grown nearby in Kentucky.
We feed our chickens the highest quality local feed because we know you are what you eat. By feeding our chickens the best possible diet, we can provide our customers with a quality product to feed their families. You can have peace of mind knowing you are eating antibiotic and vaccine free chicken that was humanely raised.

PRE-ORDER CHICKEN
Although you can order a chicken any time of year, you can pre-order chicken from November – February. Preorders are mutually beneficial because we can offer a discount in exchange for help covering the start up cost each year and projecting sales throughout the year.
PRE-ORDER AND SAVE
Our chickens retail for $5.50 per pound. By pre-ordering and paying a $10 deposit per chicken, you will save $.50 per lb while reserving your chicken. The deposit will be subtracted from your total at pick-up.
EVEN MORE SAVINGS!!!
If you reserve ten or more chickens, you will get an extra chicken for free! We have multiple pick-up dates and you can divide up your order among the different pick up dates.
PICK UP DATES
Pre-order chickens will be available for pick-up from May-October.
WHAT DO YOU GET
Our customers get a guarantee that the meat they buy is raised humanely in the best possible environment and with the highest quality feed.  You get to know your farmer and an open invitation to visit the chickens at our farm to see how they are raised. Our target weight for each chicken is 5 lbs which will feed a family of 4 with some to spare. 
Contact us below to reserve your organically fed pastured chicken.