For centuries (and even millennia across parts of Europe) log cabins have held an enduring appeal. From the time the America's were settled, the most modern forms of log cabins were created. And symbolized a way to take raw materials from the rugged frontier and craft a livable space. Today log cabins are sought after for reasons other than necessity. The thrill of being able to build a space of your own, the simplicity of materials, the wonderful hues of a wood home. 

Here at Cove Creek Farm we built our own buildings on top of the Cumberland Plateau, and have a range of locations you can stay in from glamping through more traditional cabins. Over time we've learned a thing or two about constructing log structures and also provide services to help you get started building your own cabin (or building can build a cabin for you).

Our cabins are Appalachian style board and batten cabins though we can also help to modernize the space with alternative energy solutions, composting toilets, rainwater collections systems, and wood finishing inside.

If you find yourself pining for a simpler way of life, or a place to get away from time to time, reach out and let us know what we can do to help. In the meantime, enjoy some cabin eye candy below with our collection of 30 amazing log cabins you have to see to believe!
1. The Lodge at Loch Goil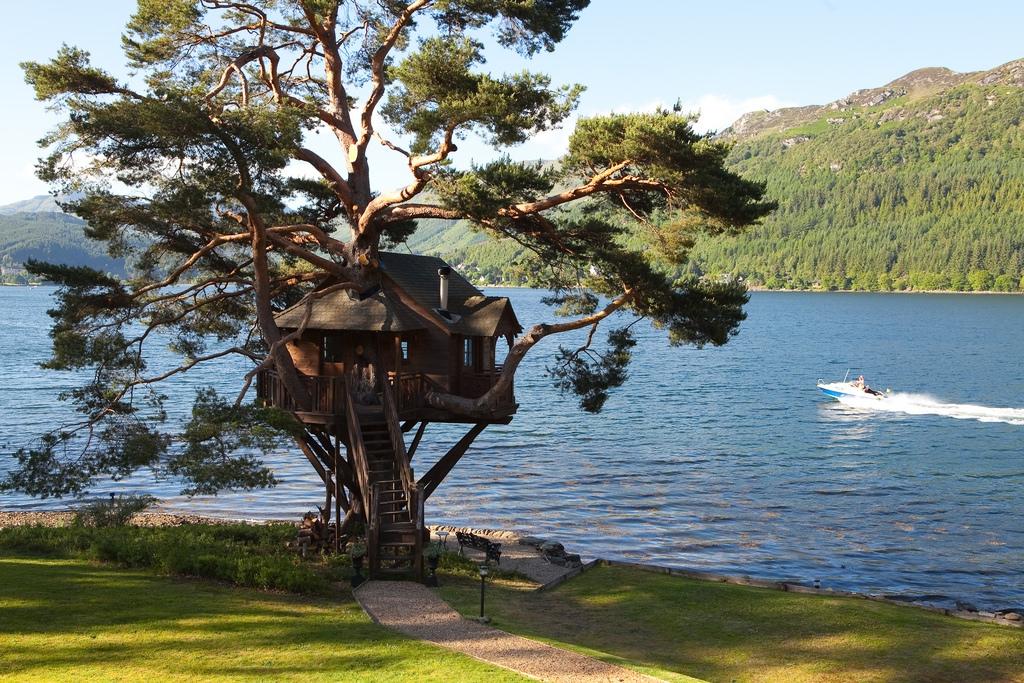 We're killing a few birds with one stone here (there may actually be some aerial collisions at this property). But for anyone drawn to the romance, ruggedness, and simplicity of log cabins, it's hard not to see the allure of this Scottish treehouse on Loch Goil. Just 30 minutes from the Glasgow International Airport, this portion of one of Scotland's finest 5-star establishments has us wishing more cabins packed traditional Highland breakfasts, whiskey tasting, and life out "in the woods."

In case you haven't gotten the picture, this old world treehouse is one of the few "cabins" on our list that you can actually stay in yourself. Check out the Lodge at Loch Goil for more information, and in the meantime clean off that Tartan for a visit.

2. A Cabin Fit For A President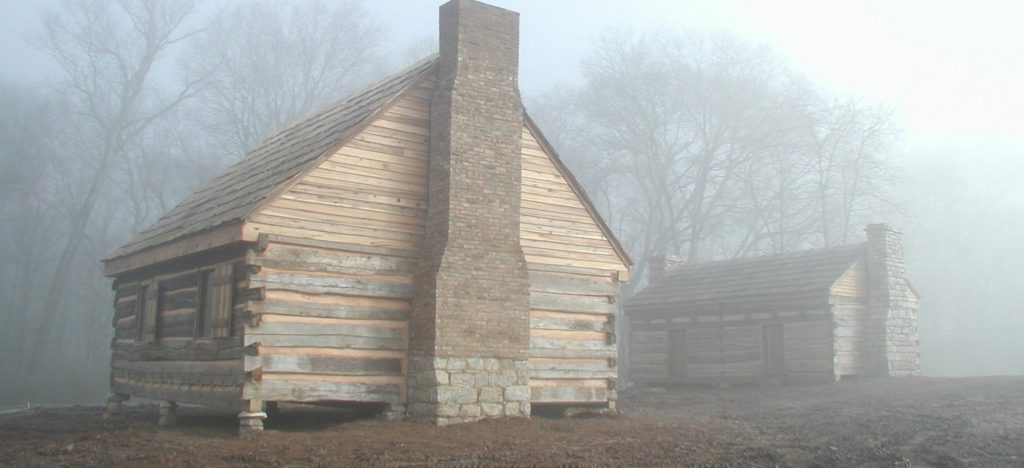 One of a few historic cabins to have played a role in shaping our nation. Built between 1798 and 1800, this Tennessee cabin was originally owned by land grantee Nathaniel Hays. Purchased by "the people's president" Andrew Jackson in 1804, Jackson dubbed the land "the Hermitage."

Today you can also visit the slightly grander main house at "the Hermitage," but at the time the smaller cabin was nothing to sneeze at itself. Upon moving in Jackson and his wife Rachel hired a local craftsman to fix up the interior with French wallpaper and trim. Additionally a 30' x 18' log kitchen that doubled as quarters for the one family of slaves on the property at the time was constructed.

Over time the cabin was altered to a great extent, with the first story removed (turning it into a structure like can be seen today). But it was within (some) of these walls that Andrew Jackson resided when he led the American troops at the Battle of New Orleans in 1815, and where his son was born.
3. The Historic Sagamore Lodge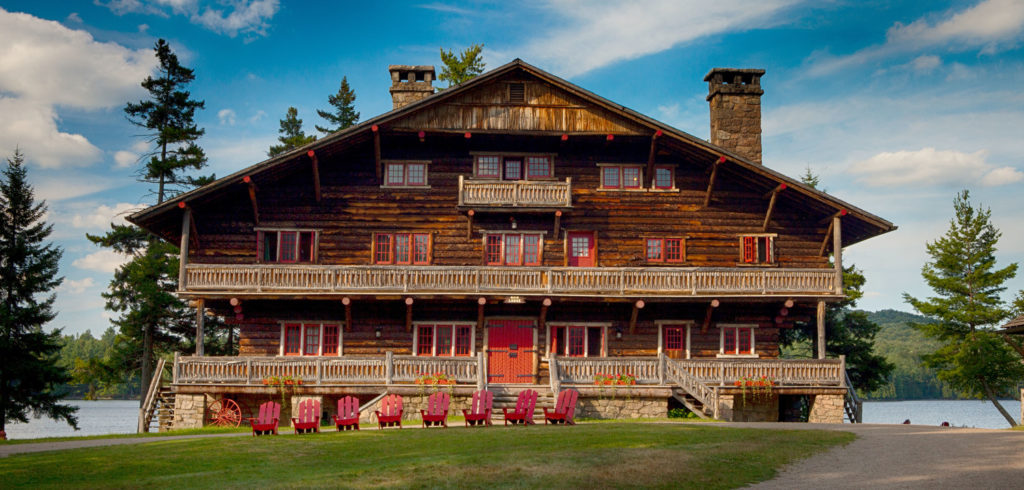 This National Historic Landmark was originally the Adirondack wilderness lodge of the Vanderbilt Family. Today this classic camp features lodging for up to 72 people away from cell reception and with limited high-speed internet access. Placed in 126,000 acres of wilderness on the edge of Raquette Lake, we doubt you'll want to check in on your emails anyways.

All stays at the Historic Sagamore Lodge include meals, lawn games, campfire gatherings, and a variety of lake and land-based activities set in the 3,500 acres of the Historic Great Camps Special Management Area. Dine in the grand dining hall, play in a historic open air bowling alley, or just stroll through the grounds at this grand, grand, "log cabin."
4. America's Oldest Log Home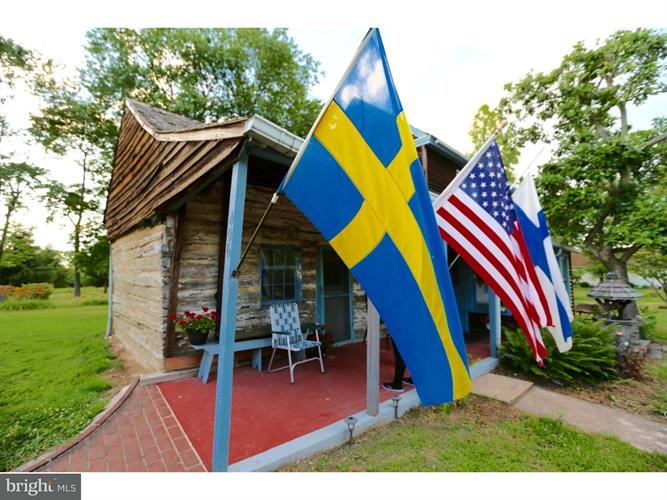 No proper list of cabins would be complete without mention of the oldest log cabin in the United States. While early North American cabins were first brought over by settlers to New Sweden (around the Delaware River and Brandywine River valleys), it was in America that what we think of as the modern log cabin was truly developed. With that said, evidence of early log cabin-like structures exist throughout Scandinavia, Eastern Europe, and Asia Minor from as early as 3,500 B.C.

Despite not being quite that old, America's oldest log cabin — named the Nothnagle Log House — was created in 1638 by one of the current owners Finnish ancestors. The cabin has been tended by Doris and Harry Rink who have owned the surrounding land since 1940. The cabin is largely untouched and still retains many features that were originally built into the house in the 17th century. The house is presently for sale in a museum-like state, and may be purchased as the stand alone structure or with all artifacts included.

5. Trout Fishing Paradise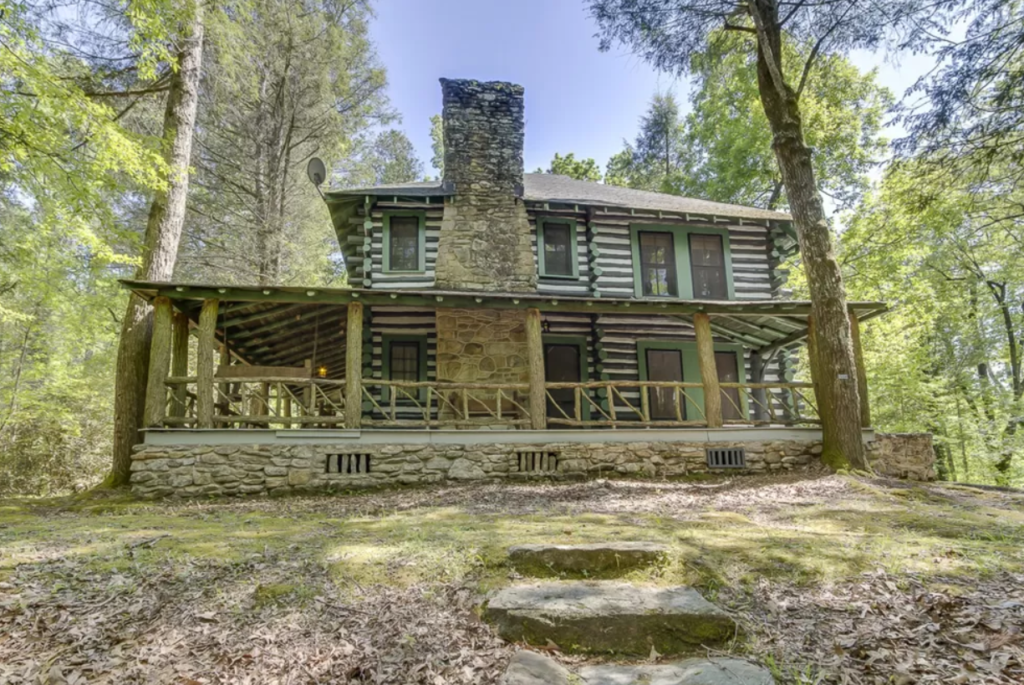 One of several cabins on our list that you can actually stay in, this Rocky Bottom, South Carolina beauty is located in the South Carolina Heritage Corridor. It's also on prime real estate for nature lover's, which we have to admit is often one of the major draws of cabin life.

Constructed in 1925, this cabin is actually a compound of cabins including the shamrock house (the main building, a bunkhouse, as well as a trout house. And as you may have guessed from the name is situated along a mountain creek that runs year around and can be great for wading, swimming, and fly fishing.

This stunner is located in the broader Chattahoochie National and Nantahala National Forest regions close to the North Carolina and South Carolina state lines. Perhaps best of all, the combined compound can sleep up to 24 and is pet friendly!

6. A Little House With a Big Imagination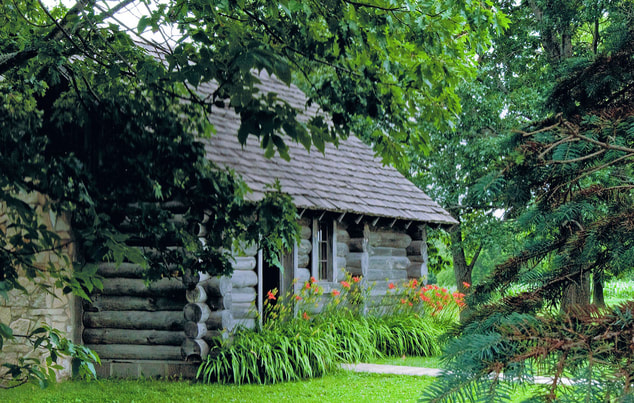 The Laura Ingalls Wilder Memorial Society has in recent years been able to build a replica of the cabin present in the book of the author of Little House On The Prairie. For those seeking a log cabin experience with a bit more of an imagination (similar to Thoreau's cabin, also in this list), this can be a great place to visit in tandem with reading the book. The cabin is open all day every day, though there aren't lights or water. It's known as a great place to take students or go on a picnic and is located in Pepin, Wisconsin.

For lovers of the era in which Little House On The Prairie is set, there are also a number of events that occur at the "Big Woods Cabin." These include individuals reenacting crafts and fairs from the time in which the famous author lived.

7. Learn Cordwood Construction From the Masters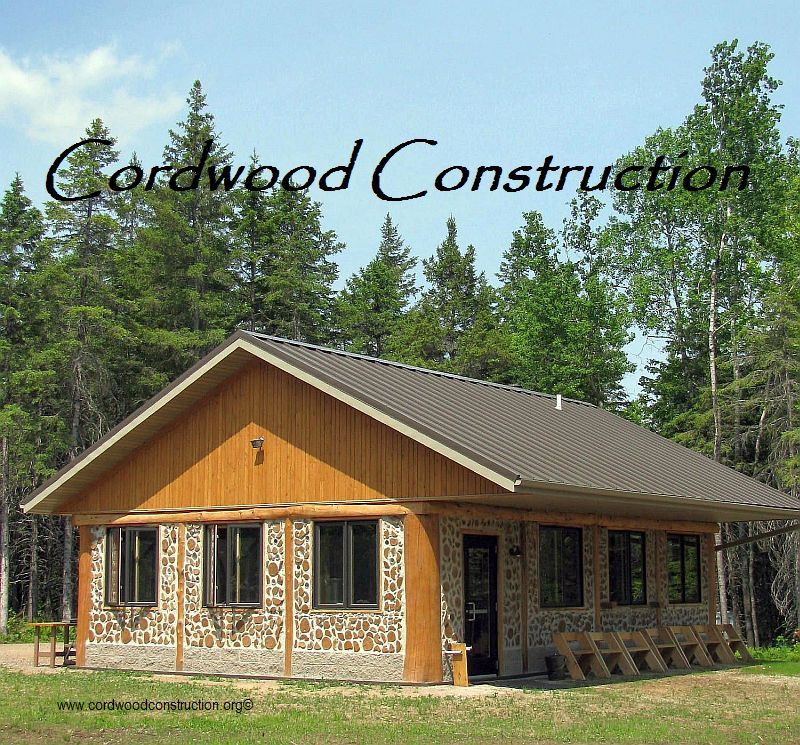 Cordwood construction is one way to build a log "cabin" that involves the placing of log ends into a wattle and daub or mortar like mixture. Like a log cabin, you can build cordwood constructions on your own and it is known as a very labor intensive but relatively eco-friendly construction method.

While cordwood was originally an economical choice known for a high R-value, in recent years savvy homesteaders and DIY-'ers around the world have seen the allure and downright fun of cordwood construction.

One of the centers of the North American cordwood universe is on the land of Richard and Becky Flatau, directors of the Cordwood Construction Resources. These early adopters of cordwood construction fell in love with their mortgage-free choice many years ago and have continued on to provide resources, lead conferences, run workshops, and create books and DVDs on cordwood construction methods.

8. An $8 Million Log-Built Stunner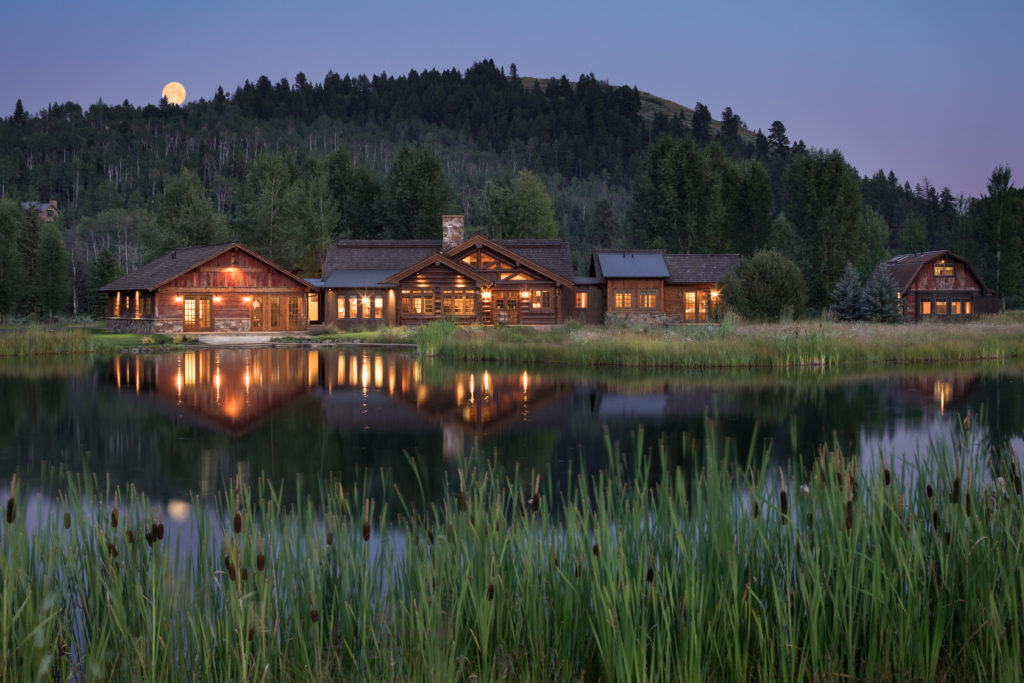 Jackson Hole, Wyoming is known for a few things: decadent ranch life, amazing views of the Grand Tetons, and log cabins…? As one of the ritziest log structures in our list, it should come as no surprise that this refurbished 4,715 square foot cabin is valued at over a million dollars. $7 million dollars over a million to be exact.

Yes, this is one of a few log cabins on our list that's actually for sale. And what a stunner it is! Constructed with logs from the old Yellowstone Fires, this family compound features about as many upgrades as you may expect for a house of this price. All flanked by some of the largest interior logs we've seen as well as beautiful local stone. Placed in a well-known and prestigious gated community this 10+ acre plot directly butts against the Jackson Hole Land Trust, making the wonderful views just a little more special.
9. Rustic Modern Charm in Woodstock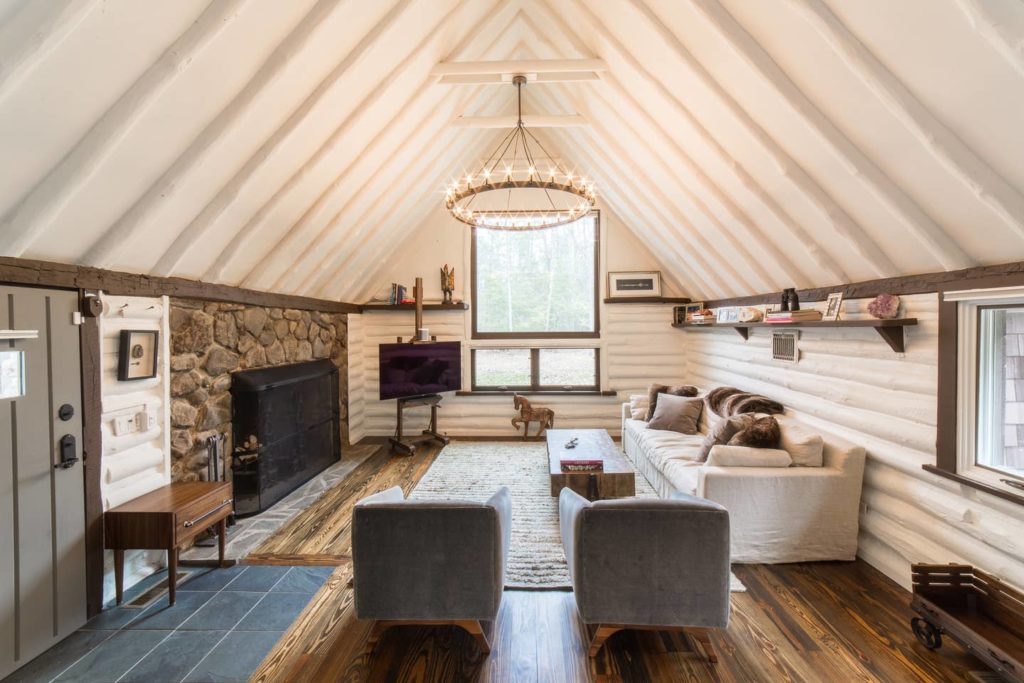 You'd be hard pressed not to mention Woodstock, New York among America's great cities in touch with nature. Located amidst a range of wildernesses and protected wilderness areas in the Catskill Mountains, the art of finding tranquility in seclusion is very much alive in Woodstock.

And though some may say this isn't a "cabin" we feel we would be amiss not mentioning at least a handful of the log cabin's close cousins: A-Frames. This charming, updated, and cozy A-Frame elevates a rugged log cabin-esque exterior with clean lines and light. And it's one of the few locations on our list where you can actually spend the night (or a week). Located without any neighbors in sight, among 50-foot trees, and with an outdoor soaking tub, you'll wish you had thought of visiting this place sooner!

10. Cozy at Altitude in Vail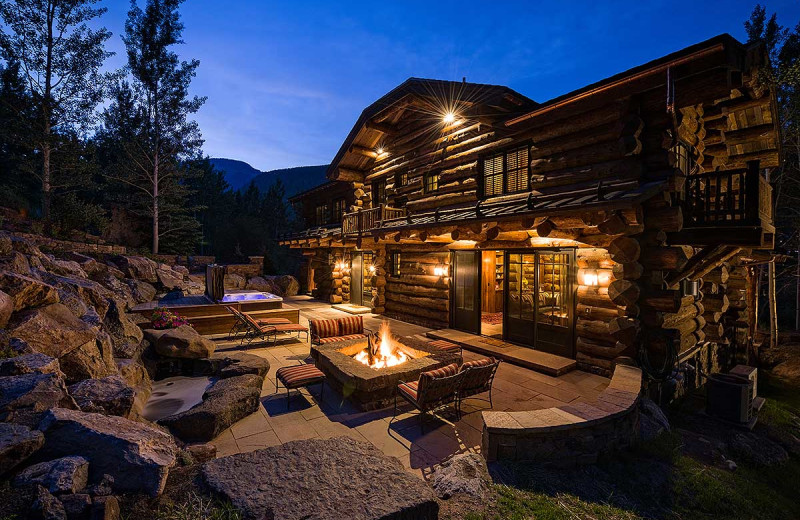 In recent years Vail has cemented itself as a year-around destination for all sorts of outdoor activities, culinary delights, and shopping and culture. Way up in the Rockies, you can add the fact that you can stay in a number of truly epic log cabins. One of the few entries in our list that you can stay in is offered by Vail Rentals by Owner. While you'll have to contact this organization to gain the specifics on this particularly epic cabin (they manage more than 300 properties), it's safe to say that this is next-level wood-ensconced comfiness.

For all the excitement, Vail is also a great place to take the family for some all-ages friendly adventure. Plot your next high altitude adventure from the hot tub, outdoor fireplace, or grilling area at a collection of these high-end Vail cabins.

11. Crab Fishing on San Juan Island

San Juan Island, a peaceful gem in the Pacific Northwest boasts a number of rentable waterfront cabins. Each cabin is positioned to have unaldurated views of the beautiful Mitchell Bay, large amounts of light, and blends into the pristine surroundings. While not the MOST epic of cabins on our list, these amazingly positioned and snug lodgings provide access to some pretty epic "R and R."

Each guest at Snug Harbor Resort has the option to check out a range of nautical vehicles including canoes, kayaks, and paddleboards. It's also the resort on the island that is the closest to whale watching and with a variety of chances to catch your own crabs for a boil.

12. I Guess That's How the "Pioneers" Did It?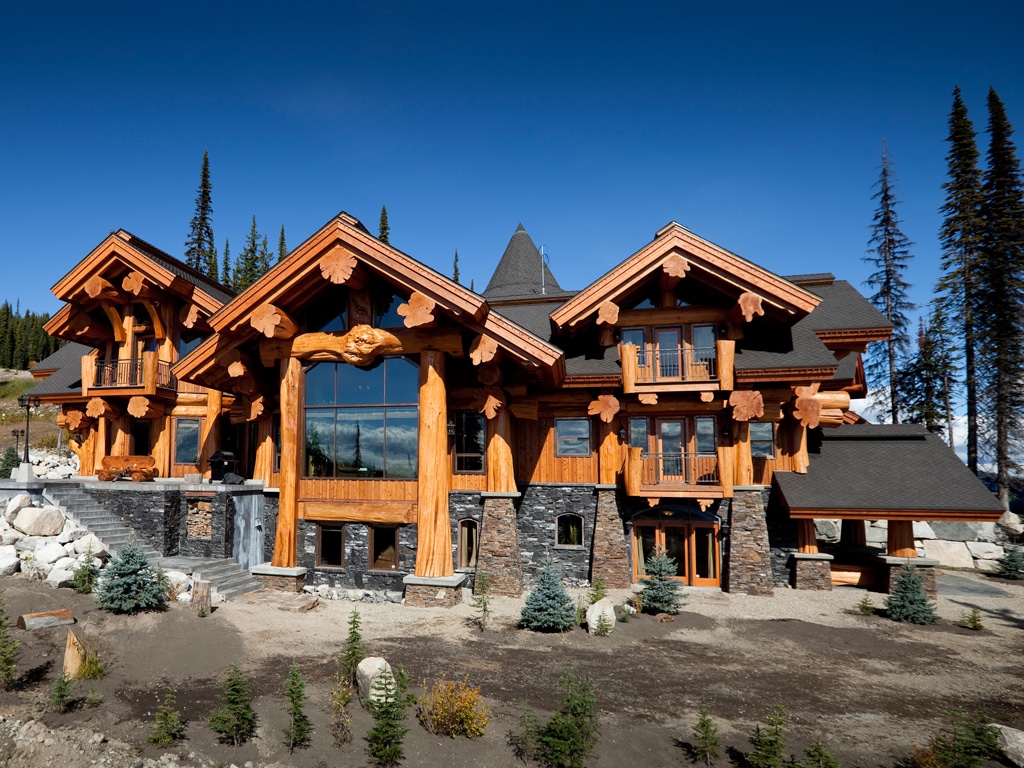 Eagle Brae, a hospitality business located in the Scottish Highlands, have a string of rentable properties created by the amazing Pioneer Log Homes business of British Columbia. These visitable log homes are built from 100% sustainably harvested logs from Canada, each of which is individually tagged, carved, and then transported to Scotland.

Most of these truly epic cabins feature turf roofs for added insulation. Even without the turf, the logs used to build these homes are MASSIVE. Each cabin is also positioned for classic views of the surrounding heights. Activities on site include shooting, riding, safaris, dog sledding, canoeing, mountain biking, and more.

13. "Wilderness" in Orlando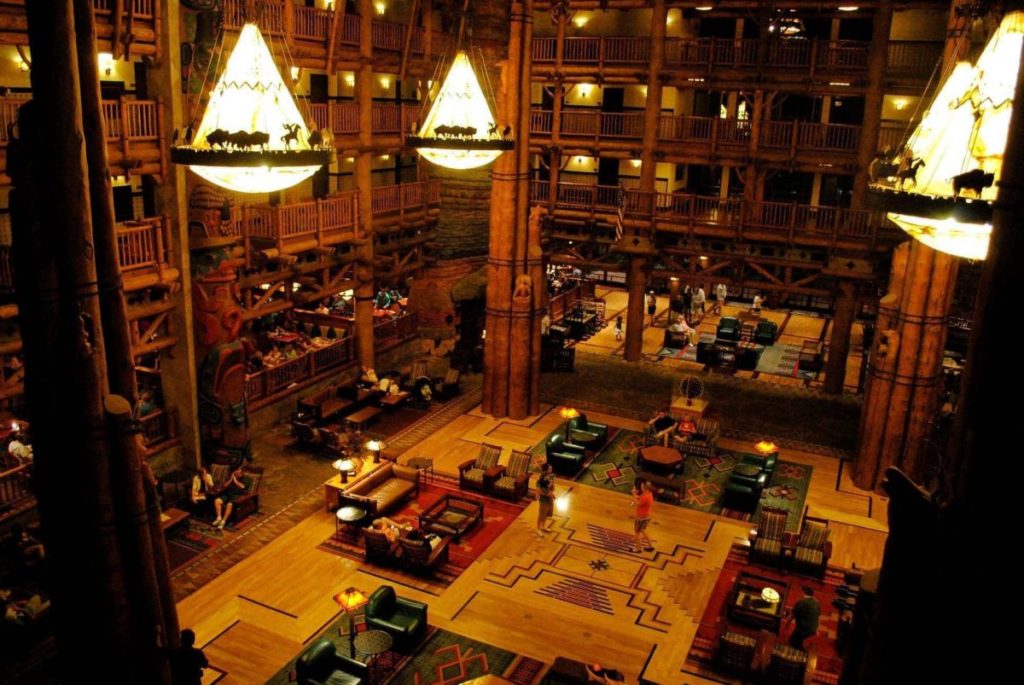 Whether you're a fan of the theme parks that make this location famous or not, Wilderness lodge (and accompanying animal kingdom-themed Disney lodges) are some of the coolest cabin-like structures on Earth. For those that love to see the lustrous hues of finely constructed woodcraft, but don't want to leave behind the comforts of a city (and beyond that, a resort), Wilderness Lodge at Disney can be a great place to stay!

As many first-time visitors to Disney note, one of the major — and often overlooked — selling points of the lodges is their crazy good attention to detail. Finely crafted chandeliers, inlays in the floor, and highly themed restaurants, bars, and shops make the trip worth it without even heading into the park. If you're into nature, nearby — also wood-heavy — lodges feature safaris, educational programs, and African wildlife right off your room balcony.

14. We Give This An A+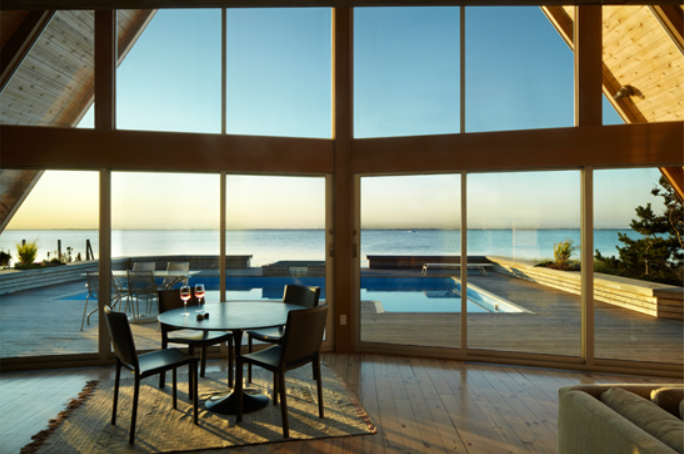 "A Frames" aren't exactly cabins, but are often seen as a somewhat romanticized and practical lodging choice that can exist in any environment. There are plenty of refurbished or elevated A-Frames, but few quite to the extent of this beauty. This three-storey architectural masterpiece is located on the shore in New York, and features a beautiful pool as well as highly effective counters to the A-Frames traditional weakness: lack of light.

While luxury to the max, this A-Frame pulls in some lessons for constructing or buying your own getaway spot. Check out the walkthrough glass bathroom that connects bedrooms as well as the full length windows that "fog up" with the flip of a switch for privacy at this masterpiece mashup of high-end meets family getaway.

15. Thinking Outside the Box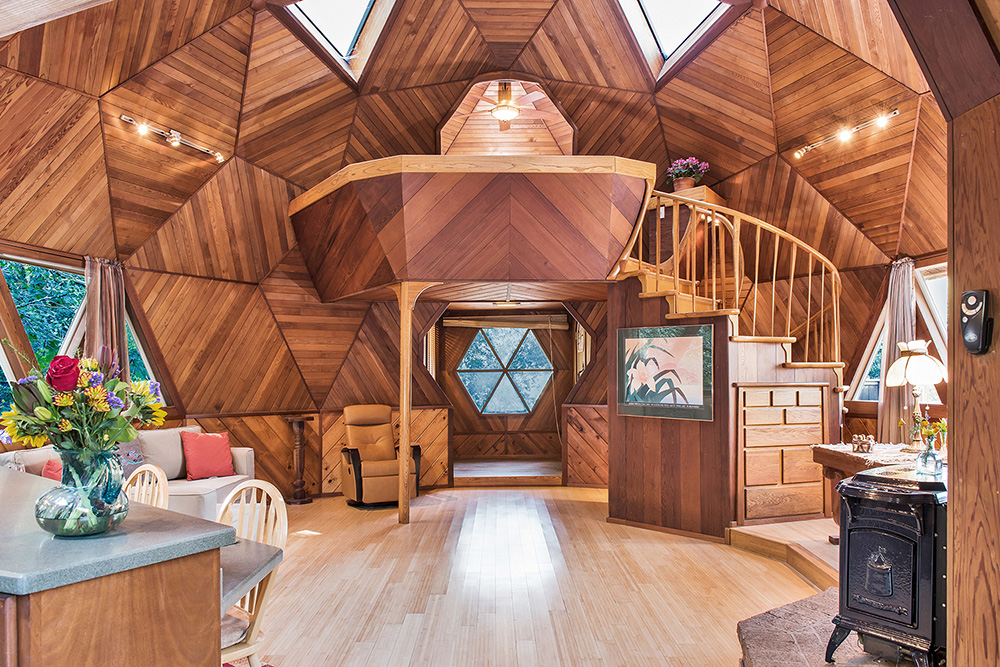 Geodesic domes have incited interest by DIY'ers for decades, particularly due to the natural physical properties of the shape. Domes can maximize light, and depending on what pattern of connecting points are one of the strongest shapes to build a structure out of. While many individuals have had trouble perfecting the art of building in dome shapes (there's a lot of custom work involved), here's an example of a well-established second (or rurally-based) home that excels.

One element individuals may not think of with geodesic domes is beauty. This wooded escape pod throws that notion on its head with the use of ample lighting and the simple geometry of wooden panels facing a variety of directions. Stare up into the dome for a mesmerizing yet down to earth feel that only wood can truly provide.

16. Visiting The Real Wild West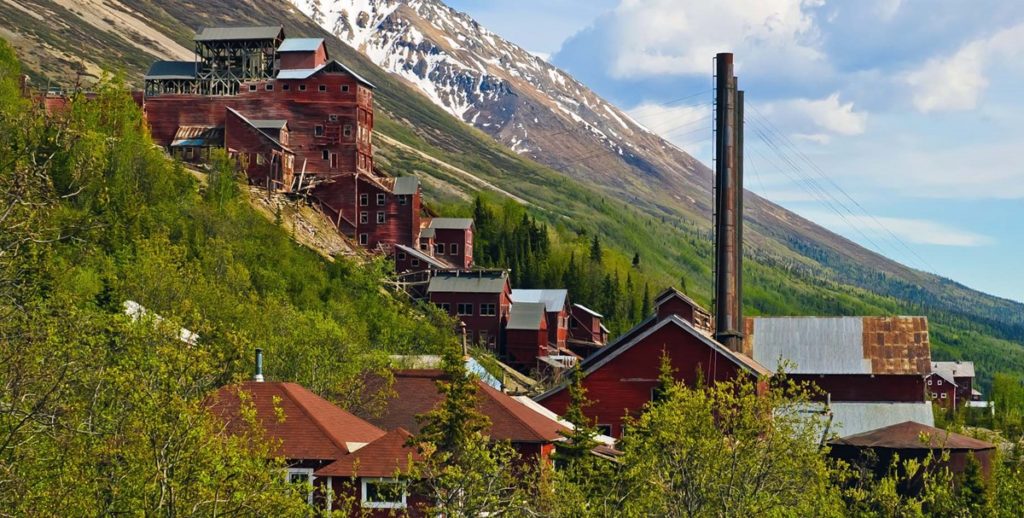 The real wild west truly is still alive in… Kennecot Alaska. This preserved 20th century copper mining town showcases charming and utilitarian wooded lodgings, mineworks, and entire historical town. Up until 1938 close to 300 individuals lived and worked in this town with between 200-300 working in copper mines. The town was entirely self-contained and included a hospital, skating rink, dairy, lodgings, recreation hall, general store, and tennis court.

The Kennecot Glacier Lodge is the only place in town where you can stay, and serves as a gateway to America's largest national park: the Wrangell-St. Elias National Park. Located 7 hours east of Anchorage, Kennecott provides a rich preserved history of an era you're unlikely to see anywhere else in America including amazing architecture and historical machinery.

17. Build it And They Will Come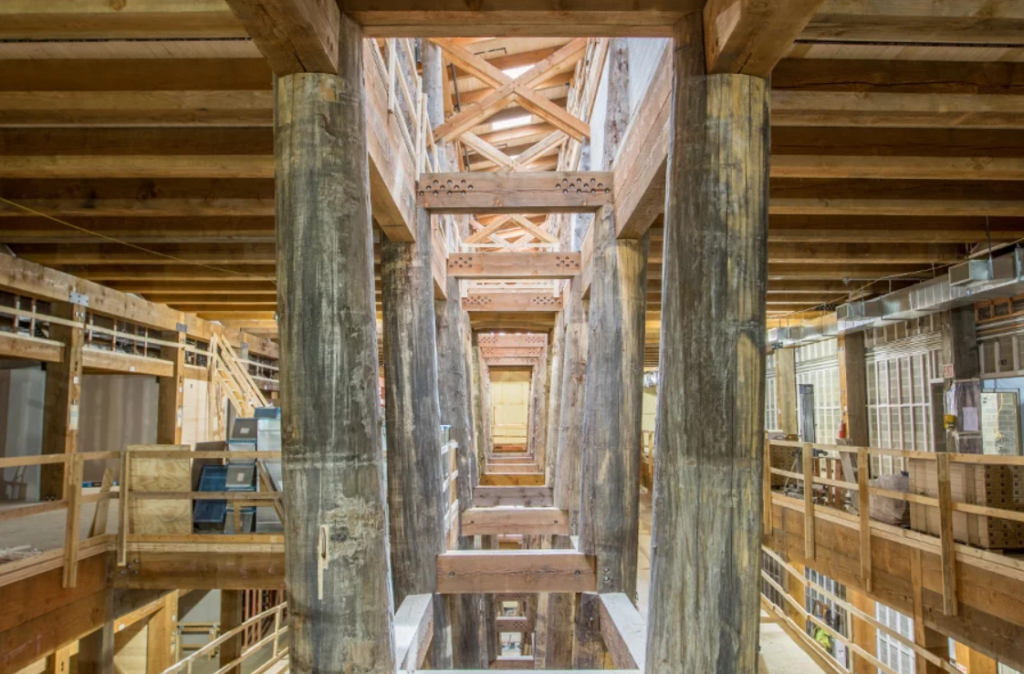 Who's to say that a wood cabin can't go to sea? Well that's how the story goes at least. For one of the most audacious potential historical recreations in the world, check out the Ark Encounter, a full-size replica of Noah's Ark as it is described in the Bible. This massive replica boat isn't going to sea anytime soon as it's located between Cincinnati and Lexington, Kentucky. But we imagine it's about as much of a sight to behold as when the original disembarked.

Coming in at 510 feet in length and close to 5 stories tall, this may be the largest wooden boat in the world. In fact, it's also the largest timber-framed structure in the world. It was also largely sustainably sourced, with most of the heavy timber (Douglas Firs) coming from trees that had already been killed through a beetle infestation. 3.1 million board feet of wood were used in this truly epic "log cabin" of the (historical) sea.
18. Bask(et)ing In the Far East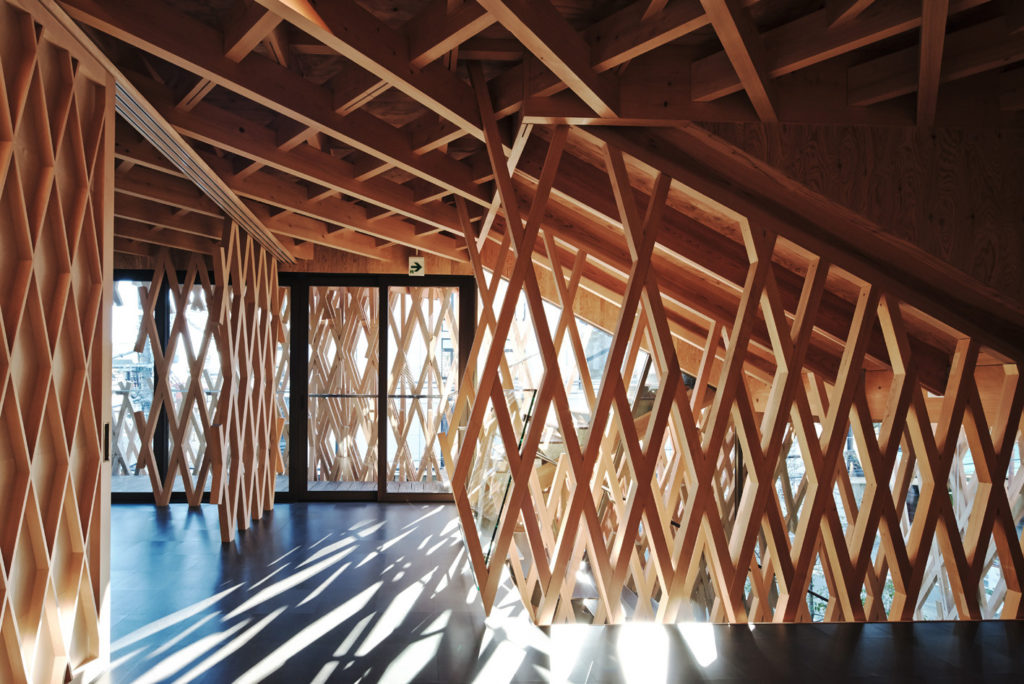 If you've ever frequented woodworking videos online, you've likely stumbled across Japanese woodworking techniques. Oftentimes utilizing no glue, nails, screws, or power tools, many unique Japanese joints hold themselves in place, and allow for deconstruction of even building frames made through traditional techniques. While this particular example does utilize some modern construction techniques, the technique of "Jiigoku-Gumi" is showcased at a massive scale here.

This Tokyo cake shop sells pineapple cakes popular in Taiwan, and is constructed utilizing a woodworking technique commonly used to weave bamboo baskets. A layered approach in which equal length wooden pieces are posited at thirty degree angles and stacked at a slight offset is strong for vertical and contortion load. It may not be the best looking wooden structure, but is sure is innovative and creates an airy and wood-infused setting that can withstand earthquakes that are common in the region using traditional building methods.

19. When Cabins Go Corporate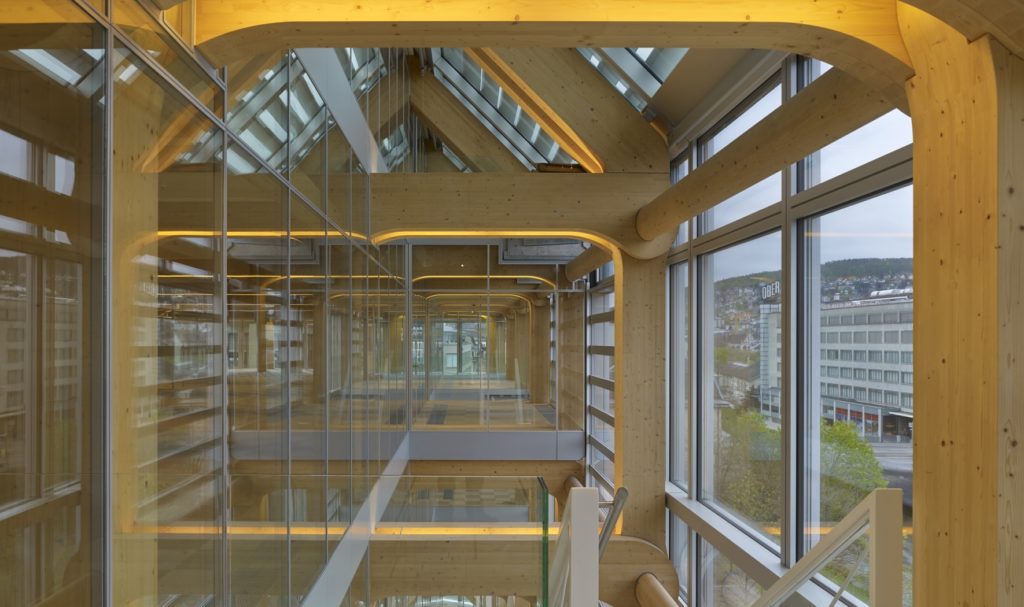 A second Tokyo-based architect firm creation, the TX Group's office building in Zurich, Switzerland is a marvel of wood and glass. Over 2,000 cubic meters of spruce wood were used in this wood-supported building which manages to fit into the modern Zurich neighborhood. Elements typically aided by steel including an overlarge ground floor filled with glass were accomplished through wood precision-milled down to the millimeter. Though it's not clear from the image above, this is a 7 storey business building constructed nearly entirely of wood and glass. Zero additional steel supports are needed to hold the structure up. It's all wood.

Inside, warmth from the expansive use of wood as well as playfully-curved supports give the building a creative feel. To hold to the sustainable ideals upheld during construction, the building is powered by entirely sustainable sources that do not include nuclear power.
20. A Miraculous Sight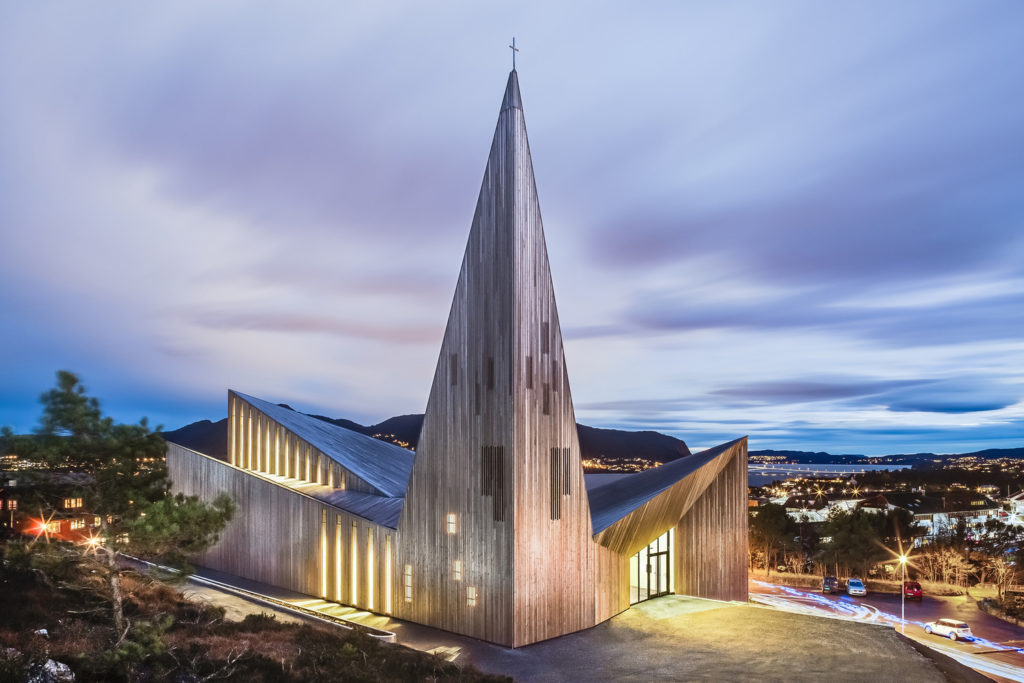 As you may have noted from the last few entries, a new age of modern wooden construction is upon us. This 2014 construction of a community church in Knarvik, Norway fits the same bill. Unique architectural lessons are on display with this property including the matching of wood tones to the rocky surroundings, as well as the matching of the markedly rising and falling roof to nearby geologic formations.

Short of the next entry in our list, this is undoubtedly one of the most beautiful wooden churches (or buildings, period) you'll ever see. Reiulf Ramstad Architects drew from inspiration within the region and symbolism of the place to create a building worthy of drawing in an inclusive community around religion, community, music, and the arts.

21. We Think UNESCO Definitely Got This One Right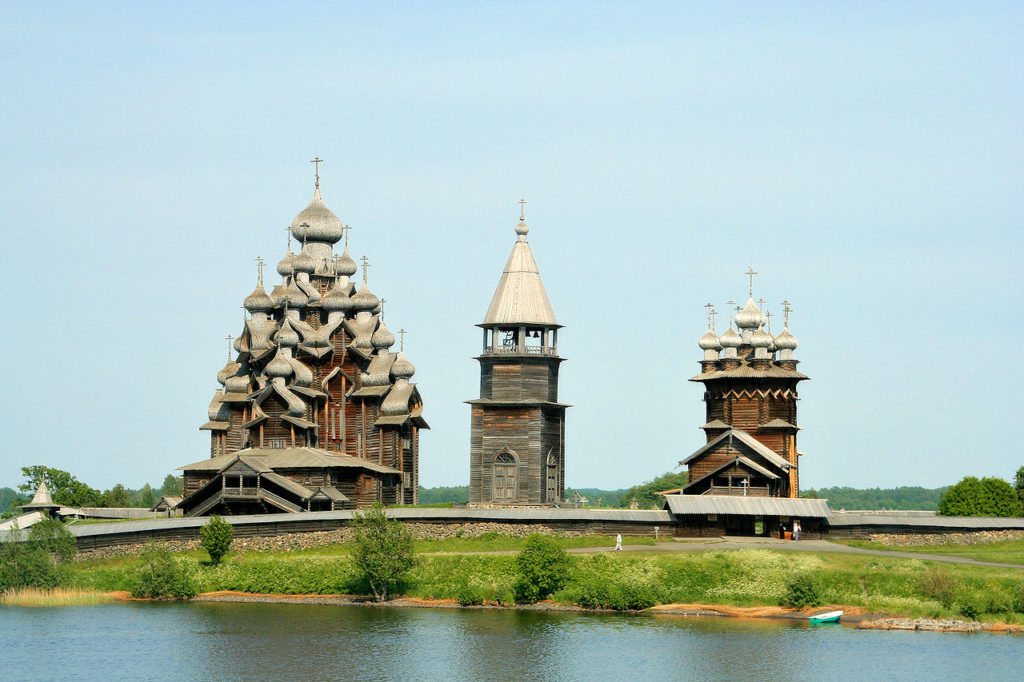 Built in the 17th and 18th century, this magnificent early example of Russian Orthodox architecture is entirely built of wood down to the very last dome (of which there are 31). This two-church creation was constructed with the architectural unit of full Scots Pine logs. All logs were cut by axe and are connected with horizontal sribe-fitted logs. Joinery at the corner is dovetail or round notch. While the roof is constructed of more delicate pieces of Spruce and Aspen. The alter of the larger church was laid in 1714 on the site of an earlier church that was struck by lightning and burned.

Today the larger chapel (the Church of the Transfiguration) is used for summer services, while the smaller (heated) church is known as the winter church. The building rests on a shallow foundation laid on top of solid stone below.

22. From The Birthplace of Log Cabins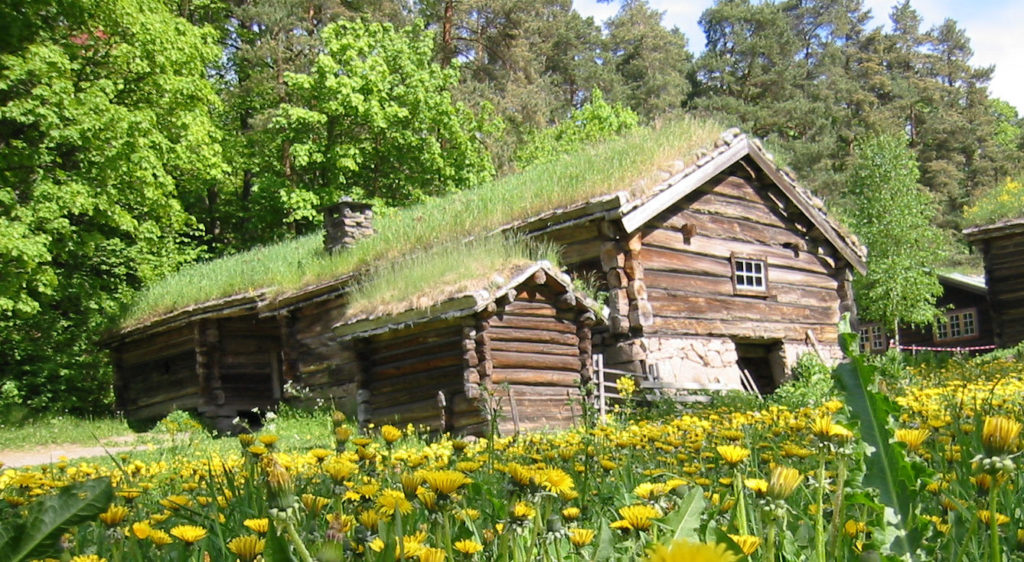 Log cabin-like structures have existed since around 3,500 BC in areas including Asia Minor, Eastern Europe and Scandinavia. In more modern forms, Scandinavia is thought to be the birth place of log cabins. The building forms of log cabins as well as related cordwood structures were often brought to America in recent centuries by Scandinavian immigrants.

If you're looking for a great example of what some of the "original" log cabins may have looked like, you should book a visit to the Norwegein Museum of Cultural History. More than 150 historical buildings from rural areas throughout the region have been brought to the location of the museum including a host of charming turf-covered log cabins.

23. Birthplace of History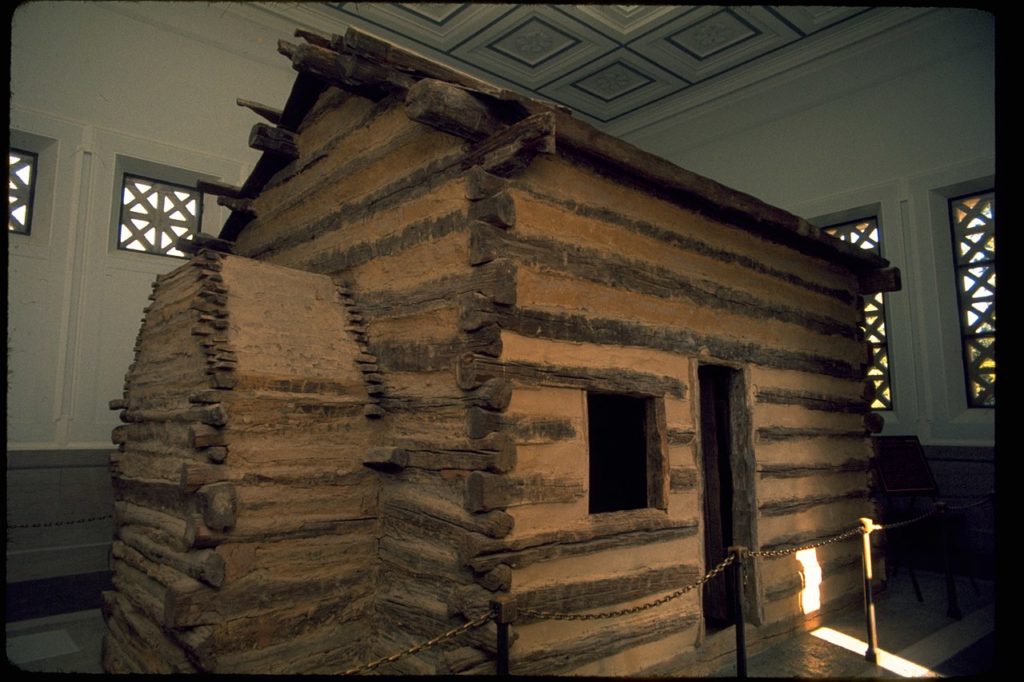 Many of the historical "greats" of America were born in log cabins, including one who spurred the moniker for the childhood toy Lincoln Logs. The history of which cabin Lincoln was born in is actually a convoluted one, with the original cabin supposedly being dismantled with parts used to construct a neighboring house at some point during his childhood. With Lincolns fame directly before and after his death, a range of sets of logs including some taken from the house that supposedly included logs from Lincoln's original home have circulated at various exhibits.

All of this is to say that if you would like to see a cabin symbolic of the one Lincoln was born in, this is possible at the Abraham Lincoln Birthplace National Historical Park. But don't expect to be overwhelmed (except for Lincoln's ascension to international importance began in such a tiny dwelling). Over the years as historians have discerned that cabins circulating as the original Lincoln home were not accurate a clearer picture of what the cabin likely looked like has been formed. The most recent cabin is thought to be the most accurate and is only 12 x 17 ft in size.

24. Frontier Stopover

Another American great to live in a cabin (likely several) was famous frontiersman Davy Crocket. Colonel David Crockett lived in this cabin in Rutherford, Tennessee from 1822-1835, when he departed for his much remembered death at the Alamo. The "King of the Frontier" and statesman, explorer, and soldier lived with his mother on this land where she is now buried. During his time in Rutherford Crockett is known for hunting and killing 105 bears as well as serving three terms in the three terms in Congress.

Current visitors to the cabin can see a structure reconstructed from the original logs in Crockett's homestead. Additionally a host of furniture, tools, and paraphanalia from the early 1800's are on show. Visit Davy Crockett's mother's grave, as well as see a collection of letters from the famous frontiersman to get a glimpse of what life was really like in this frontier cabin in the 1800's.

25. Pre-Revolutionary Charm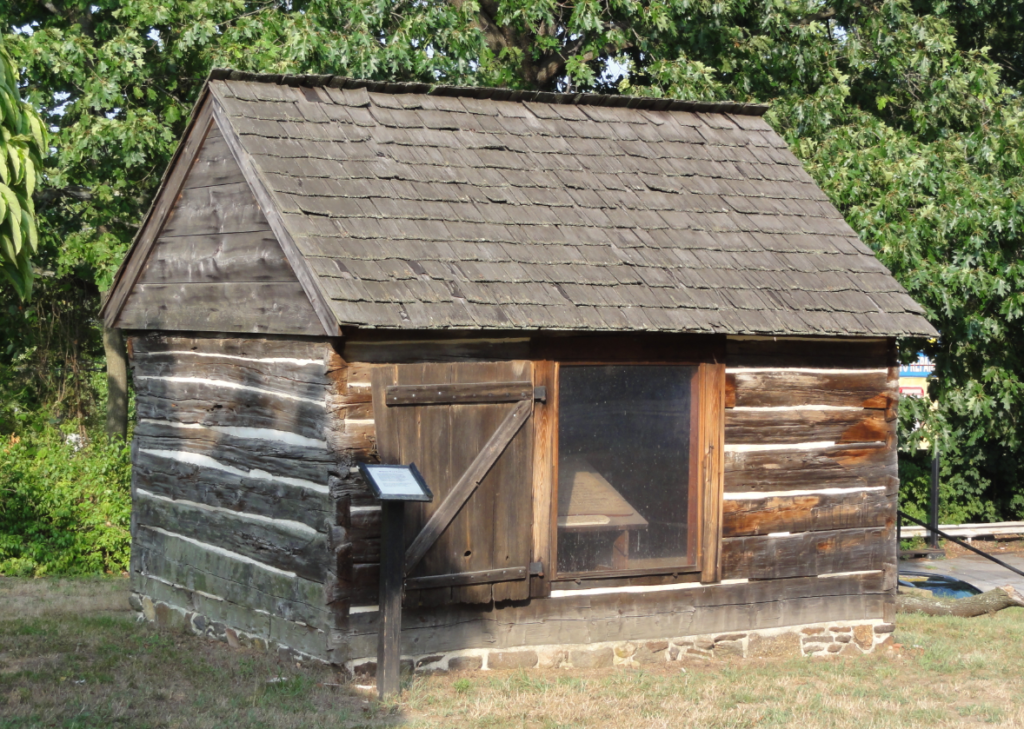 The "Van Leer" cabin holds a popular place on the grounds of Conestoga High School in Chester County, Pennsylvania. Created by a Prussian family who emigrated in 1759. Dr. Bernardhus Van Leer, the original owner of the cabin is known for being a travelling country doctor who rode horseback to see his patients until the age of 102. Dr. Bernardhus Van Leer was one of the first doctors in the state of New York as well as the nation.

Some architectural interest may be seen in the cabin, which is of the German variety. As opposed to Scandinavian-based or locally developed cabins, German log cabins are known for placing logs tight together and in a manner such that they are set evenly at the corners of the building.

26. Just Blocks From Gettysburg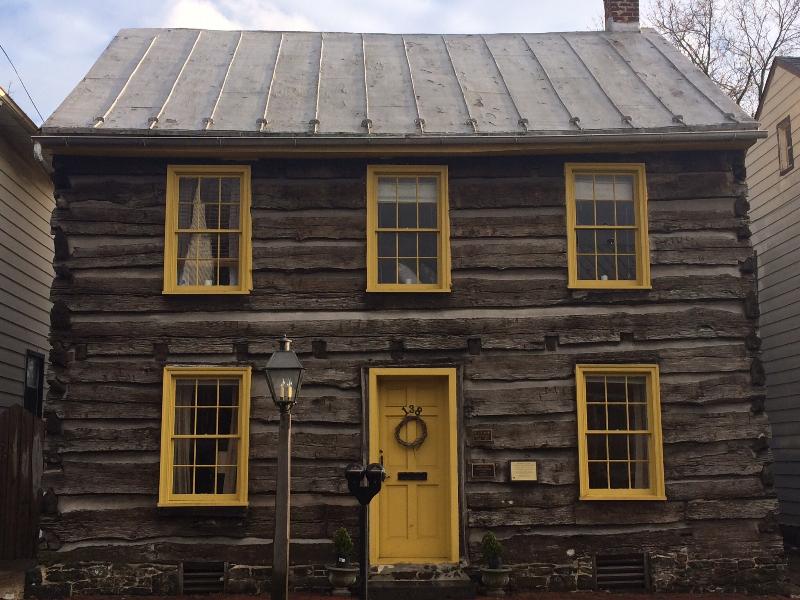 Perhaps the most history-rich cabin in our list that you can also stay at, the home of Thaddeus Stevens was built in 1790 and sits just blocks from Confederate-occupied Gettysburg. Uneven floors, exposed beams, and a cozy 18th century "downtown" charm make this a wonderful place from which to explore Gettysburg.
For visitors hoping to stay in the Stevens Log House, they should note that times were a wee bit different in the 1790's. Closets are rare because they were taxed in most locations, and people were a little bit smaller meaning ceilings and doorways are low. One awesome thing about this location is that it has been retrofitted with modern appliances, recessed lights, and central air conditioning, making it a truly unique stay from the era in which it was built.

27. A Figurative Cabin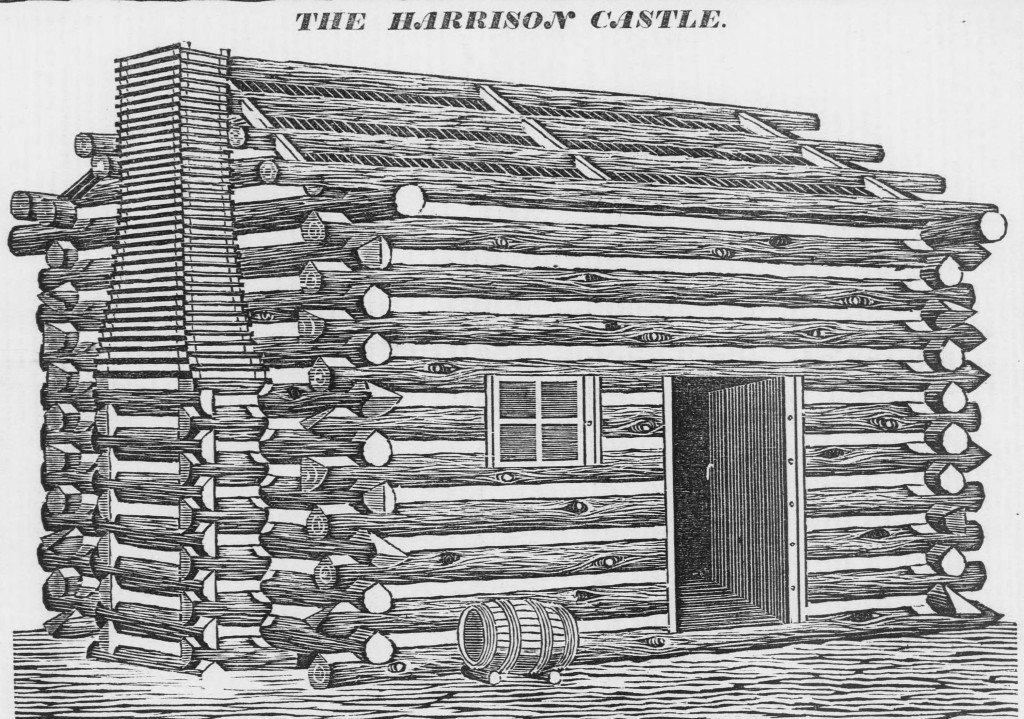 Sometimes cabins are symbols, and sometimes those symbols turn into reality. William Henry Harrison was an 1840 Whig presidential candidate (and eventual president) who branded himself the "log cabin and hard cider" candidate while on the campaign trail. There may or may have not been any literal truth to this statement (Harrison likely never lived in a log cabin). What this slogan came to symbolize, however, was that President Harrison was devoted to the rugged individualism that defined part of America's politics in that day.

Long after Harrison's death individuals claiming to have replicas of Harrison's log cabin toured the nation showing off the dwelling place (much as individuals would do after Lincoln's death). And the symbol persisted, particularly in a group of Republicans known as the Log Cabin Republicans. These individuals were gay or lesbian conservatives who rallied behind a vision of individualism resonant with the Republican party of the time.

28. A Cabin With a Literary Bent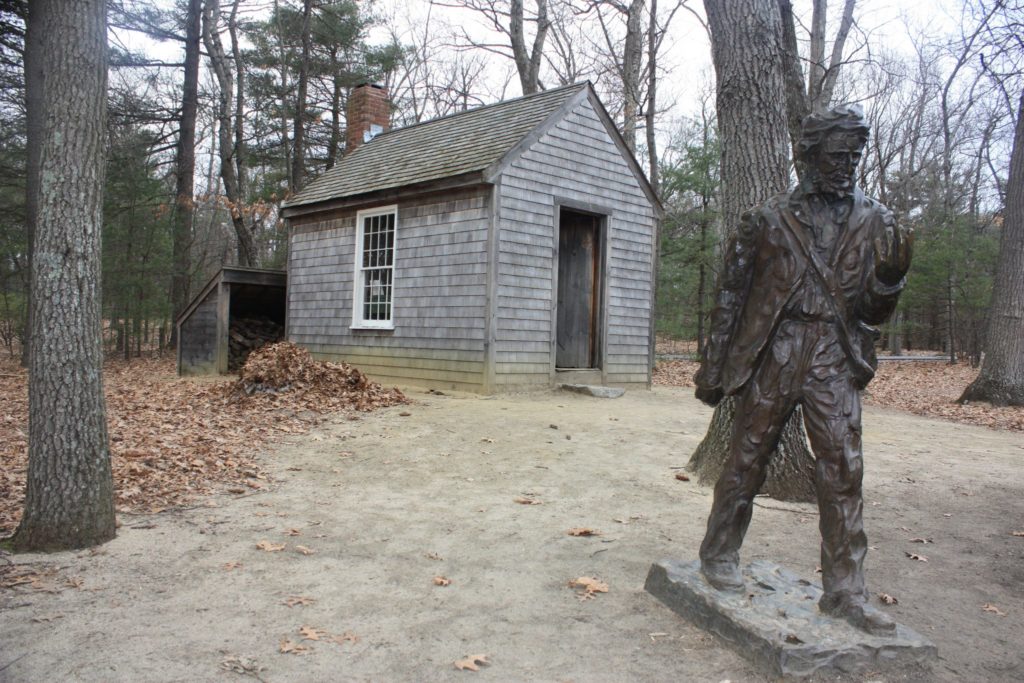 If you ask a student of literature what comes to mind when you mention a cabin, they likely bring up one of two figures: Jack London and his novels of rugged individualism on the frontier, or Henry Thoreau, and his contemplative time in a cabin on Walden Pond. Today, near the pond at the Walden Pond State Reservation in Massachusets, there stands a replica of Thoreau's cabin.

This cabin — similar to the one Thoreau spent two years in while writing Walden — would have been build before the Civil War, and well before Laura Ingalls Wilder headed west to her Little House On the Prairie. It was here that Thoreau became one of the original sirens of a life of simplicity and introspection that can more easily be accomplished in nature (and in a log cabin). You can visit this replica cabin to this day.

29. Built of Necessity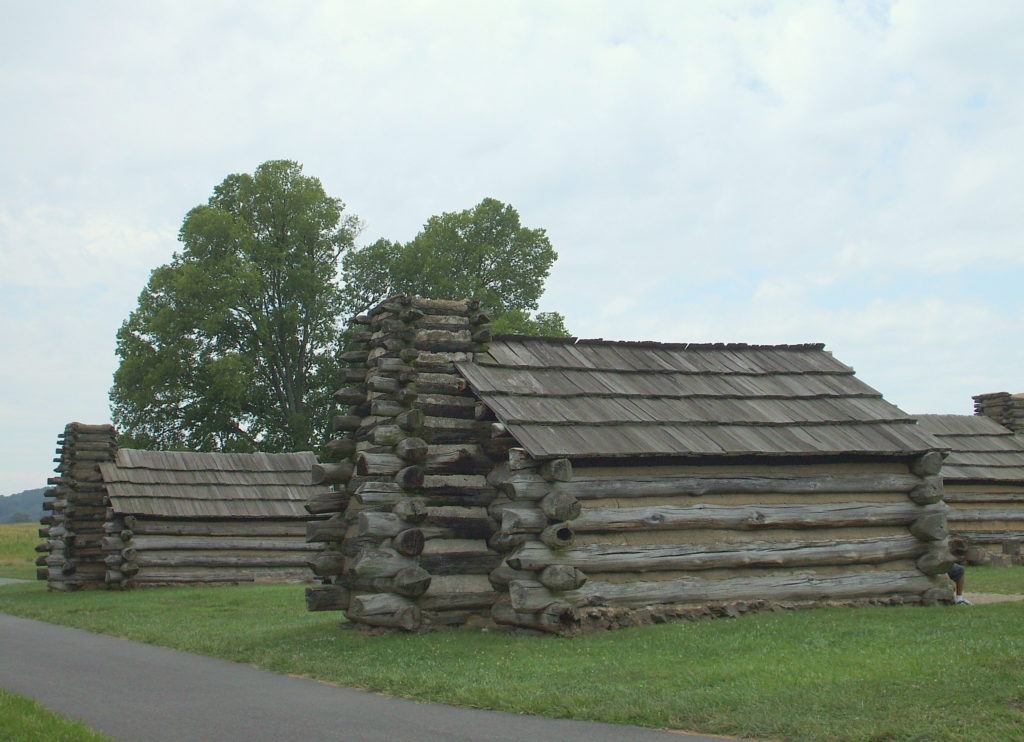 Another historically important moment in American history to happen amid log cabins occurred during the Winter of 1777-1778. The continental army, led by General George Washington was forced to spend the winter in Valley Forge, Pennsylvania. Though food rations were low and the weather was harsh, many historians note that the Continental Army came out of the winter with an enhanced sense of purpose and patriotism.

Today one can visit reconstructed historical cabins and learn about the harsh winter in Valley Forge. During the army's stay, thousands of log cabins were laid out in parallel rows with doors facing south so that the sun could heat the cabin during the day. Cabins were roughly 14 x 16 ft. and housed either 12 enlisted men, 6 lower level officers, 3 staff officers or 1 general each.

30. In One Fell Swoop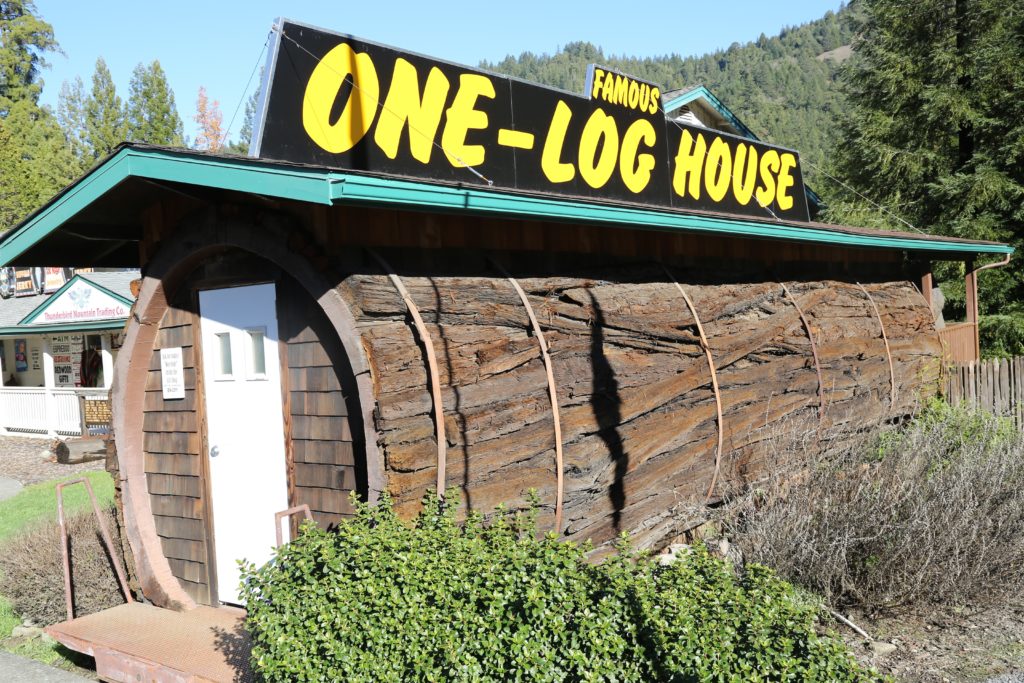 One final "log" (literally) cabin that you can stay in on our list is a longtime roadside attraction in Humboldt County, California. This giant redwood log was felled and crafted into a small home in 1946. It took eight months of effort to hollow out the center of the log, which weighed 42 tons, into a livable space.

During its early years (well, several decades) the one log house travelled the country being showcased. But in 1999 was taken back to the rough location at which it was felled to become a permanent installation in Northern California. Visitors looking for a quirky place to stay can stay inside this retro log house, or just visit the souvenir shop while passing through.