Are you looking to build a rustic cabin in the woods?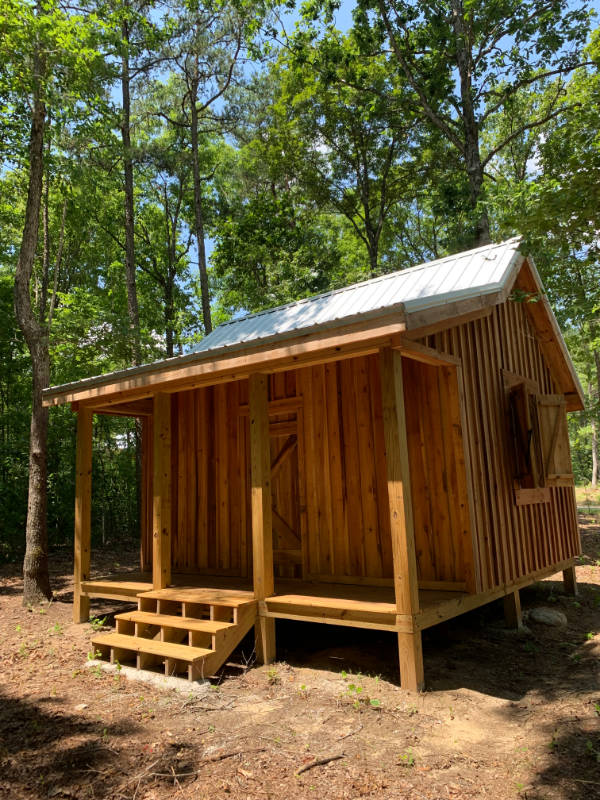 Located on the Cumberland Plateau off 24 near Monteagle, TN Cove Creek builds rustic cabins in the Chattanooga and Nashville areas.
To keep things simple, we charge a flat $50/square ft to build unfinished cabins. All Appalachian style board and batten cabins include a front side covered porch and a tin roof. Our cabins are built with local rough sewn lumber by experienced craftsmen.
The exterior is an old fashioned style board and batten. As part of the cost we include several screened in windows with wooden shutters as well as one door.
Additional costs may apply for site prep and local permitting.
Our standard cabin sizes include:
Small (12×16)
Cost: $9,600
Medium (24×24)
Cost: $28,800
Large (24×48)
Cost: $57,600
Extra Large (30×60)
Cost: $90,000
We can also provide you with additional custom services including:
off the grid alternative energy solutions including solar, wind, etc.
wood heat solutions (fireplace, stove, etc.)
custom built wooden furniture
interior wood finishing
custom lofts
custom beds
composting toilets
insulation
rain water collection systems
If you want to stay in one of our cabins before buying, we do offer rustic cabin rentals.