At Cove Creek Farm we raise Red Devon cattle originally purchased from Lakota Ranch in Virginia, one of the most respected Devon breeders in America. At some times of the year we have Red Devon for sale including bulls, heifers, bred heifers, bred cows, and steer. If you're looking to buy a Red Devon bull, some heifers, calves or a starter herd, let us know using the contact form at the bottom of this page.
Get in touch: click here to contact us about purchasing Red Devon cattle.
A Little About Our Red Devons
Red Devon Bulls, Cows and Heifers are known for their heritage and the quality of the meat that they can produce as grass fed beef. As a breed, Red Devon was originally developed in Devonshire, England in both the valleys and along the rolling hills. In the 17th century that were brought over to America.
At Cove Creek Farm we continue to raise our Red Devons in a natural, mountainous grass-fed environment similar to their original breeding environment. Continuing with the grass finished tradition, we select Red Devons that mature on grass in two years.
Cove Creek Farm make our Red Devon cattle available to other Red Devon breeders for use on their farm. We regularly cull out cattle that do not meet our standards for docility or optimal grass feeding and finishing. The bulls and heifers that we breed perform well in a variety of conditions, are very docile, beautiful and easy to work.
Our Red Devon exhibit excellent marbling for grass fed, grass finished beef. Our Red Devons regularly mature out between 1000 and 1100 pounds before they are slaughtered. Our goal is to raise cattle who hit these numbers in two years.
At Cove Creek Farm our cattle are completely grass fed and grass finished. Our cattle consume absolutely no GMO's, animal by-products or any type of hormones. Our Red Devon are moved daily in a rotational grazing system that we will be pleased to teach you about as you pursue your own farming ventures.
Our Location
Cove Creek Farm is within a day's distance of Alabama, Georgia, Tennessee, Virginia, North Carolina and Kentucky. Our red Devon herd is raised in Monteagle TN, right off of RT 24 for easy access.
Our cattle, which are derived from Lakota's Red Devon genetics have been some of the best in Devon Genetics since the 1980s. Lakota Red Devon have a strong reputation and perform extremely well finishing out on grass.
The Process
If you are interested in introducing some Devon genetics with a bull or getting a starter herd, start by filling the out the contact form below. We will then have a phone conference to discuss what the best options are for your situation.
After our phone call, we will take some pictures and video of the cattle we feel will meet your needs. If the cattle are to your liking, we recommend that you schedule a visit to our farm to see the animals being raised. After visiting with the cattle we will send you a contract. As soon as the contract, along with a 50% deposit is received, we will schedule delivery. Upon Delivery, you will pay the remaining 50% and the delivery driver. If you have your own cattle trailer, we can coordinate a time for you to pick up your cattle.
red devon Cattle for sale Prices
Purebred Devon Yearling Heifers for sale  $1800
Purebred Devon Breading Ready Heifers for Sale $2200
Purebred Devon Bred Cows for sale $3000
Purebred Devon Bull for sale $2700
Purebred Breeding Ready Devon Bull for sale $3500
Due to logistics and management, our minimum order at the moment is $12,000
Red Devon Bull For Sale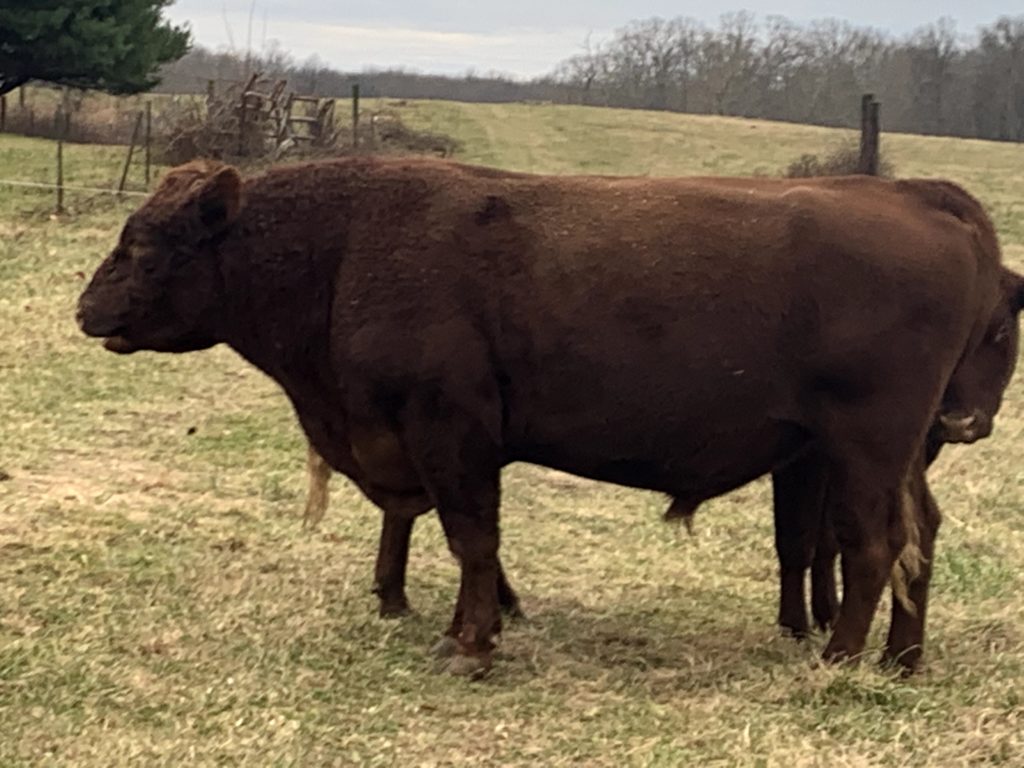 The most efficient and affordable way to improve your Red Devon herd is by adding a high quality Devon bull. In addition to adding new genetics to your herd, you can also use a Red Devon to create superior F1 crosses. Devon tend to finish faster on grass with a high feed conversion rate. This means less inputs needed to finish your animals and less money coming out of your pocket. Your resulting breeding female will be smaller framed and you will e able to carry more head of breeding cattle on the same acreage. More cows with high fertility will results in more calves for your operation.
Red Devon Starter Herd for Sale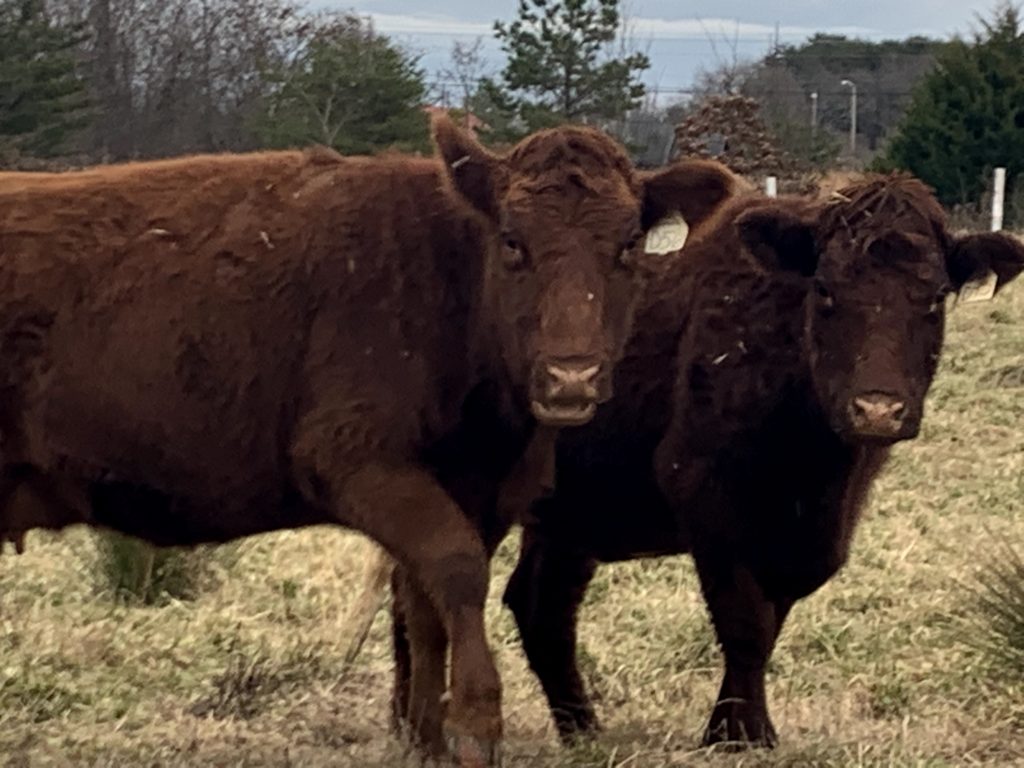 When choosing a breed for a grass-fed operation, you won't find a breed more suited to regenerative practices then Red Devon Cattle. Feel free to contacts us about purchasing a small Red Devon starter herd. By culling hard, we are able to maintain superior Red Devon stock. If you're like the Pilgrims and are looking for a bull and a couple heifers, or you're looking to buy twenty head and jump in full steam ahead, we would be honored if you choose Cove Creek Red Devon cattle.
Recommended Starter Herd Package:
1 Breeding Ready Devon Bull
3 Breeding Ready Devon Heifers
3 Yearling Devon Heifers

Total cost: $15,500
Red Devon STeer for Sale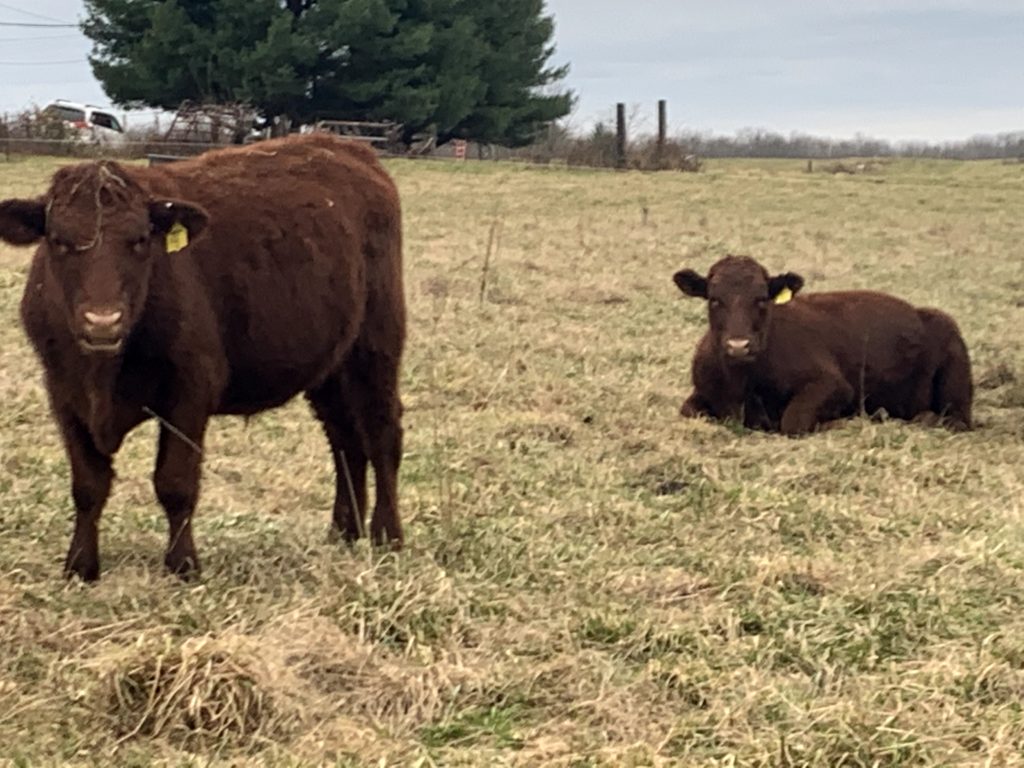 If you are looking at getting into grass fed beef and aren't sure you are ready to take on the challenges that come with managing breeding stock, buying Red Devon stockers or steers is the way to go. With their great feed conversion rates you will be able to finish a yearling steer in 1 to 1.5 years depending on the quality of your pasture and your management techniques.
Bred Heifers and Cows
When buying a starter herd, your best bang for your buck is buying bred heifers and cows. Although bred livestock are more expensive initially, you end up with two head of cattle. Bred heifers have never had a calf before and there is a little more risk involved because of some of the unknowns in breeding. We cull hard to eliminate cattle that don't have good mothering ability and live birth rates to help minimize the risk. Bred cows are a little more expensive but they have proven that they have the ability to calf unassisted.
Use our contact form for more details on available Red Devon Cattle for sale.
Get in touch!